How Long Does Bathtub Reglazing Last?
If you have a bathtub in need of a makeover, reglazing is a relatively inexpensive way to revitalize the fixture. The process can eliminate stains, scratches, and chips that can make the bathtub look dingy. With proper care, reglazed bathtubs can look brand new and last for many years. However, the lifespan of the new finish depends on a few factors, including the type of chemicals used, who applied the finish, and how you maintain your new bathtub. 
(To learn more about our miracle method bathtub refinishing process or to request an estimate, schedule an appointment with us today! Click here: https://www.fgtubandtile.com/countertop-refinishing/)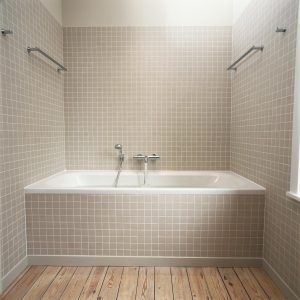 Cost of reglazing a bathtub
Reglazing an old bathtub can save money compared to buying a new one. Depending on the type of tub, reglazing can be done within one day. Generally, reglazing a bathtub will cost between $200 and $500. However, the labor involved in this process may vary from one service provider to another. 
The cost of reglazing a bathtub depends on the material used and the time and expertise of the person performing the job. A bathtub that is in good condition can be reglazed at a lower cost. However, a bathtub that has significant damage will require additional repair, which will drive up the price. In addition, you will be required to spend an additional $25 for every chip in the bathtub. 
Chemicals used in reglazing a bathtub
Reglazing a bathtub requires removing the old finish, which will require the use of chemicals. One chemical used in reglazing is methylene chloride, which is a chlorinated solvent. Dichloromethane is also a common chemical used for paint removal. The chemical has a sweet odor and is heavier than air, so workers should wear a protective mask or respirator to protect themselves from the fumes. This chemical can also be dangerous for small children and pets. 
Before reglazing a bathtub, the surface must be thoroughly cleaned. Two-step cleaners are used to remove the soap scum, mineral deposits, and body oils. Then, a proprietary bonding agent is added to the tub, which helps create a solid bond between the old and new finish. Finally, a trained professional applies a durable acrylic coating to the surface. 
Problems with reglazing a tub
There are several potential problems when you're considering reglazing a bathtub. Some bathtub reglazing materials fail to adhere to the proper conditions or even deliver satisfactory results. Epoxies, for example, are inexpensive but not very effective when applied to a bathtub's surface. They won't protect against small leaks, and the coating can start to look yellowish over time. If you'd rather not deal with this problem, you may want to look for a higher-quality bathtub reglazing product. 
Another common problem with reglazing a bathtub is demalination. This is caused by a high moisture environment or improperly mixing the coating. Sometimes the coating doesn't adhere to the surface of the bathtub and it needs to be removed and replaced. Insufficient coatings can also result in shadowy or undetectable top coats. If these problems occur, you may need to reapply the coating, but this isn't an enduring solution. 
Whether you should reglaze a tub with serious cracks
Baths are a great way to relax after a long day, whether you enjoy a glass of champagne, a good book, or scented essential oils. They help you unwind and rejuvenate your skin. However, a worn-out bathtub can make bathing a miserable experience. Luckily, reglazing is an easy and affordable way to rejuvenate your tub. 
Unfortunately, bathtubs that show signs of serious cracks may not be good candidates for reglazing. While reglazing a tub may be a simple cosmetic solution, it is only a short-term fix. Like nail polish, it will eventually need to be touched up again.