What is the Difference Between Porcelain and Ceramic Tile?
Porcelain and ceramic tile are two different kinds of tiles. Both are made from clay, but porcelain is much more durable and resistant to water. Ceramic is also softer, making it easier to cut and shape. 
(For ceramic tile bathroom walls refinishing, contact us today!)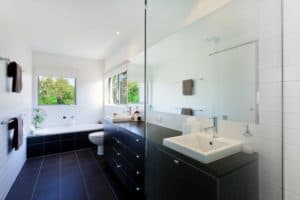 Both are ideal for flooring and wall surfaces, and they come in a wide variety of colors, patterns and textures. Many of the newer products evoke animal prints, leather, fabric and other exotic looks. However, they are quite different in how they are made and maintained. 
Porcelain is the more popular choice of material for home design and renovation. It is less porous, making it a great choice for bathrooms, showers and kitchens. Aside from its durability, it offers a beautiful finish and variety of colors. And while it is slightly more expensive than ceramic, it is also less expensive than natural stone. 
Porcelain is fired at a higher temperature than ceramic, which makes it more dense. This allows it to withstand heavy foot traffic and abuse from abrasion. Plus, it is less prone to cracking outdoors. 
Although it is not frost-proof, some porcelain can be used in outdoor locations in mild climates. Another advantage is that it is relatively easy to clean. The grout is easy to change, and it is recommended that you seal it periodically. Also, because it is manufactured with a lot of other natural materials, such as feldspar and kaolin, it is a very good insulator. 
Regardless of what type of tiles you choose, you will have to make sure to use a level substrate. Otherwise, you will be left with lippage. You may also need to reseal your grout every few years. If you want to use the grout on the sides of the tile, you will need to use cementitious grout. 
Porcelain is more difficult to cut than ceramic. You will need a wet saw with a porcelain diamond blade. While you can usually find ceramic tiles that do not have a glaze, you will need to reseal the grout after a few years. 
Porcelain is harder than ceramic and has a more natural look. When it is not glazed, it can resemble wood, limestone, and concrete. Some tiles can even be decorated with an inkjet printer. 
Porcelain is also more resistant to moisture than ceramic, which means it is suitable for wet areas. Since it is more dense, it is harder for it to crack. On the other hand, it absorbs more water than ceramic, so it is not recommended for outdoor spaces. 
As a matter of fact, many people think that porcelain and ceramic are identical. Despite this, there are subtle differences that you should know. Before deciding which type of tile you prefer, visit a company to see what their selection is. Most companies have a knowledgeable staff to assist you. Whether you are remodeling your bathroom or adding a touch of class to a foyer, a dedicated team of experts can help you with your project.