What to Clean Marble Countertops With?
Depending on your cleaning method, there are a number of different substances you can use to clean marble surfaces. These include hydrogen peroxide, isopropyl alcohol, and commercial poultices. Using a combination of products to clean marble surfaces is recommended, but you need to be careful not to damage the surfaces. 
(For services like laminate bathroom countertops, contact us today!)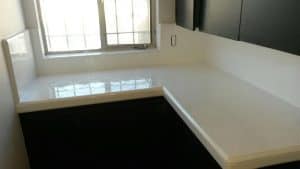 Baking soda
Using baking soda to clean marble countertops is a great way to keep them looking their best. Marble is an extremely porous material that is prone to scratching, stains, and dullness. It needs to be cleaned regularly to maintain its lustre and appearance. Fortunately, baking soda is safe to use on marble. 
If you have a marble stain, you can apply a paste of baking soda and water to it. This paste should be applied liberally to the stain and covered with plastic wrap. The paste should lift the stain after 24 hours. If the stain remains, you can apply the paste again to the blemish. 
Isopropyl alcohol
There are several ways to clean marble countertops. It is recommended to avoid using harsh chemicals. You can use warm water and a mild dish soap to clean the marble countertop. Using acidic cleaners can damage the stone. Use only mild soaps to clean marble. Isopropyl alcohol should not be used on marble countertops. 
While many people use vinegar or bleach to clean their countertops, these substances can damage marble. This is because they may etch the surface and leave a permanent scar. In addition, they may contain bacteria. While vinegar and hydrogen peroxide can kill bacteria and viruses, they will also damage marble. 
Hydrogen peroxide
You can use hydrogen peroxide to clean marble countertops by mixing it with water in a spray bottle. Use 30 percent hydrogen peroxide and 70 percent distilled water. You can spray the mixture on the surfaces or rub it in. The hydrogen peroxide will help kill any bacteria and germs that may have gotten onto the marble surface. In addition, it will not damage the surface. 
It is also effective for removing ink stains. For dark counters, use a cotton swab dipped in acetone. For lighter counters, use a 20 percent hydrogen peroxide solution. You can also use a soft cloth soaked in water to remove any buildup that has formed. 
Commercial poultices
If you're looking for a quick way to clean your marble countertops, you may be wondering how to make a commercial poultice. There are a few things to keep in mind before you use one. The first is that the product may etch the marble if it's not used properly. That's why it's a good idea to test it out first in an inconspicuous or hidden area. You should also check it out after 24 hours to make sure that you haven't damaged it permanently. 
A poultice is basically a paste-like cleaning agent that is applied to a stain. You can use a premixed version from a stone maintenance supply company, or mix it yourself. It's a good idea to choose a paste that's not too thick or too thin. The Marble Institute recommends applying poultices about a quarter to half-inch thick, and you should use a spatula or wood scraper to apply it evenly. 
Natural stone cleaners
There are a few natural stone cleaners that can be used to keep marble countertops clean. The best method is to use a mild dish soap and warm water. However, be sure not to use anything acidic on your stone surfaces. If you do use an acidic cleaner, it can damage the sealant. 
When cleaning marble, use a neutral pH stone cleaner. Organic stains can discolor the stone. Ammonia, a common household cleaner, will bleach out organic stains. You can also try a powdered poultice from the hardware store. If you don't have this material, you can use acetone. Then, buff the area and dry it thoroughly with steel wool.