What is Tile Refinishing?
Whether you want to give your home a whole new look or you simply want to improve the condition of the tile in your bathroom, you may want to consider tile refinishing. It is a cost effective alternative to tile replacement and can increase the value of your home. 
(Searching in Google "refinisher tile shower"? Contact us today!)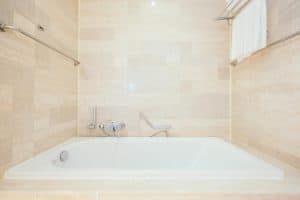 Often, it is necessary to refinish your tile in order to improve its appearance and extend its longevity. Replacing tile is often costly and time-consuming. Tile refinishing is a fast and easy way to give your tile an instant facelift. 
There are a number of things to consider before starting a refinishing project. First, you will need to prepare the surface. Make sure the surface is clean and free of dust and debris. Also, you will need to ensure that you have the proper tools and supplies. If you plan to do the project yourself, you will also need to prepare a work area that is free of clutter and debris. The next step is to find the best products for the job. 
A few of the most important products to use are primers, bonding agents, and clear finishes. Primers help to seal the tile. Bonding agents fill in small gaps in the tile surface and allow the finish to adhere to the tile. You may also want to consider using acid paste to improve the adhesion of the new finish. The finish is then applied using a sprayer or a brush. 
One of the easiest ways to do the best possible refinishing job is to have professional help. Often, a professional refinishing company will charge less than a DIY kit. Professional companies have the expertise and equipment to do the job right. They may also be quicker and more cost effective than doing the work yourself. 
Unlike painting a tile, refinishing requires no removal of the existing tile. In fact, you may be able to save a great deal of time by refinishing your tiles yourself. Moreover, you will be able to select from a wide variety of colors and finishes to make your bathroom look like new. 
The most important thing to remember is that tile refinishing is a lot easier than you might think. Although refinishing does take time, it can be done in as little as a few hours. The process is similar to that of refinishing a bathtub. The most important thing to remember is to use the proper tools and techniques. Using the wrong tools can lead to a less than desirable outcome. 
For the best possible result, you may want to consider using two coats of the right finish. It is also important to choose a product that is designed to provide the most protection for your tile. Using a sealer is a good idea because it makes your tile easier to clean. 
Another important thing to remember is that you need to know how to do the tile refinishing process correctly. This means using the correct tools, using the right technique, and following the proper safety precautions. Also, it is important to make sure that you have a good resume of work to back up your refinishing project.