What is the Difference Between Reglazing and Refinishing Bathtubs?
Bathtub refinishing and reglazing are two ways to improve the aesthetics of a bathtub. The refinishing process is the more permanent option, whereas reglazing is a temporary fix. Depending on the type of tub you have, you may need to choose between the two. You will also need to consider the cost. 
(Searching in Google "install a ceramic tile floor"? Contact us today!)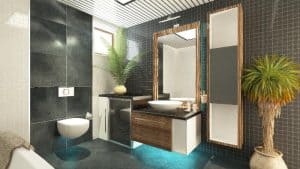 Reglazing is a process in which a new coating is applied on the surface of your bathtub. This is done by a professional. It will take a day to two days for the process to be completed. After the coating has been applied, you will have to wait for the glaze to cure. Once it has cured, the bathtub is then sanded to smooth out any imperfections. 
Reglazing is an excellent way to give your old bathtub a new look. It is often cheaper than replacing the entire bathtub. However, it can also affect how you use the tub. A reglazed tub will eventually become dull and wear out. To protect the finish, you will need to clean the tub on a weekly basis. Also, avoid harsh cleaning products. Using harsh chemicals can reduce the life of the paint. 
If your tub is not in good condition, you may need to have it replaced. This can be a costly and time-consuming process. In addition, you might also face plumbing issues. These can cause a delay in the overall renovation. 
Whether you need to have your bathtub repaired or refinished, there are plenty of options available. Many home improvement stores offer kits that you can install at home. However, you can also pay a professional to do the job. Regardless of the type of service you select, it is important to have the work done correctly the first time. 
During the refinishing process, a specially-formulated two-step cleaner is used to remove any dirt, grime, and body oils. This is followed by a durable acrylic coating. As a result, your tub will be buffed and polished. Your tub should be left to dry for at least a day before using it. 
Another advantage of having your bathtub refinished is that you can preserve the original flooring. Alternatively, if you have a tiled floor, you can choose a different color. With reglazing, you can even change the color of a cultured marble counter top. 
The biggest benefit to reglazing your bathtub is that it is a cost-effective solution. Even though it can be a temporary solution, it can last for up to a year. While refinishing your bathtub will not be a long-term solution, it is a great way to spruce up your bathroom and keep your home looking nice. 
When deciding between bathtub reglazing and tub replacement, make sure you evaluate the pros and cons. The cost of the project will vary based on the size of the tub, the labor involved, and any other materials you might need to have installed. Considering the potential of a bathroom makeover, it is always wise to consult with a contractor to see which option is right for your home.