What Is Standard Countertop Depth?
The standard countertop depth is 24 inches, but you'll need to account for an overhang above the cabinets. This gives you a total depth of 25 1/2 inches. The deeper the countertop, the more protection you have against spills on the base cabinet. However, you may have trouble getting to the wall if the countertop is too deep. 
(Looking for the best bathroom countertops? Contact us today!)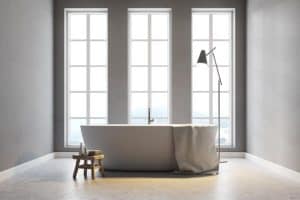 Standard countertop depth
When buying kitchen cabinets, consider the depth of the countertop. You should choose a depth that is equal to the width of your cabinetry, plus an extra inch to allow for overhang. A standard kitchen countertop depth is 24 inches, and a depth of 25 1/2 inches is recommended for bathroom countertops. A countertop that is too deep can leave you with an unusable space. 
Countertop dimensions are important for many reasons, from aesthetics to functionality. Choosing the wrong size can make a kitchen look cramped and inefficient, not to mention devalue a home when you sell. Countertop depth is the distance from the front edge to the wall behind the counter and varies depending on the depth of cabinets, appliances, and backsplash details. Standard countertop depth is a great starting point to maximize space and enhance the look of your kitchen. 
Overhang rule
The Overhang rule for standard countertop depth is a basic measurement that can help you plan your countertop depth. To determine the overhang, use a Speed Square, a 90-degree item, or another rigid item and press it against the countertop edge. The length of the item should be at least as long as the countertop itself. 
The Overhang rule is an important part of kitchen design, because it prevents crumbs from falling into drawers, and makes cleaning messes easier. For kitchen islands, you need to create a larger overhang than you would for standard base cabinets. A good rule of thumb is to create a minimum of fifteen inches in the overhang. Depending on the size of your kitchen, the Overhang rule will vary slightly. Base cabinets are typically 34.5 inches high without counters, and 35 to 36 inches deep with them. 
Height of a toe kick
A toe kick is a part of a cabinet that extends from the countertop. The toe kick is usually made of wood or composite materials. Its height varies depending on the material used. Wood toe kicks are generally shorter than metal toe kicks. To make the toe kick height adjustable, you can buy covers for the toe kick. These covers are easy to install and come in different heights. 
A toe kick is not necessary, but it is a nice design feature to add to your kitchen. It gives your cabinets a more finished look while reducing the amount of strain on your back and hips. Moreover, it reduces strain on your legs if you stand for long hours at a time. 
Dimensions of a kitchen island
The dimensions of a kitchen island vary, but they are generally forty inches long and two feet wide, with about 36 to 42 inches of clearance all around. The height of the island depends on the size of the kitchen, but you can make it higher if you want to place stools on it. A kitchen island is a great addition to any kitchen, and the right layout will maximize its functionality. 
The height of a kitchen island should be at least one meter from the floor level. It should be tall enough to provide sufficient space for the stovetop and refrigerator. If you plan to install a ceramic hob, consider placing the island one meter from the wall to create a more open and sociable kitchen environment. 
Extra-deep 48-inch island countertop
A kitchen island provides a functional space for prep work, additional storage, and loads of countertop space. Choosing a material for your island countertop is an important decision that should be made carefully. Choose one that is durable and attractive, and consider combining different materials to add character. You can also opt for a moveable island, which can be a good option for smaller kitchens. 
Kitchens are often considered the heart of the home, and island countertops provide a very useful surface for the endless pursuits of life, from cooking and eating to homework and entertaining guests. Choosing the right countertop for your kitchen island is important, as the overhang can make or break its smooth operation.