What Does the Miracle Method Tile Refinishing Cost on Average?
Founded in San Francisco, California, the Miracle Method is a nationwide franchise company that repairs and restores all types of ceramic tiles, countertops, and tubs. They have more than 140 franchise locations across the country, and their services cover a wide range of residential and commercial projects. 
(Looking for bathtub reglazers nearby? Contac us today!)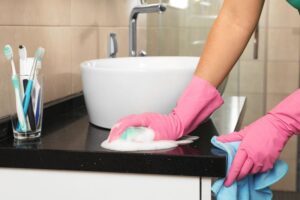 Bathtub Refinishing
One of the most common refinishing services that the Miracle Method offers is bathtub refinishing. This process is an excellent way to refresh a damaged or dingy tub without replacing it, and it can save you as much as 75% in the long run. 
The bathtub refinishing process involves sanding the existing tub and removing any damaged or moldy grout, then buffing and polishing it to make the new surface appear as good as new. The process also includes filling in cracks and chips with a durable, non-abrasive coating. 
Countertop Refinishing
As with the bathtub refinishing, the countertop refinishing process also involves sanding and removing any damage from the existing surface, then buffing and polishing it to create the new surface look as good as new. This refinishing process is available for most cultured marble, floor tile, Corian, Formica, and Wilsonart, as well as several laminate counter types. With more than 12+ colors to choose from, including a stone-like appearance, this refinishing process is sure to give your kitchen or bathroom a new look. 
Typically, a refinished countertop will last around five to seven years, with some homeowners reporting they can extend the lifespan of their refinished counters by more than 15 years or even more, depending on how well you care for them and what type of maintenance is required. In addition, most refinishing companies offer warranties for their work. 
Shower Refinishing
The shower refinishing process is an ideal option for updating a bathroom's look and can be particularly effective on glass shower doors or other materials that might not adhere to the original finish well. The refinishing procedure is also great for updating shower pans and walls, making it an affordable solution to an outdated shower area. 
This refinishing procedure can also be used for any tile, including shower walls and floors. The refinishing process is an inexpensive way to update your bathroom and add value to your home. 
School Refinishing
Some school districts are turning to the Miracle Method to breathe new life into aging pastel tiles and partitions that have been in use for decades. This refinishing process uses specialized equipment, bonding agents, top coats, and clear finishes to recreate the look of the original tile in a durable gloss. 
Silver Ion Technology
Over the past year, the Miracle Method has expanded its services to include refinishing surfaces with antimicrobial silver ion technology that inhibits odors and stains by keeping bacteria like salmonella from calling the new surface it's home. This new layer is extremely durable, helping to keep your bathroom and kitchen cleaner longer. 
While the majority of Miracle Method's refinishing work is done in homes, the company is also working with commercial customers like hospitals and hotels to complete refinishing projects at a fraction of the cost of tearing down and replacing the surface. This method is convenient for anyone who wants to improve their bathrooms and kitchens but is concerned about the cost of renovation.