What Does Bathtub Reglazing Mean?
The process of reglazing a bathtub can be hazardous. The material used to apply the protective coating is highly toxic. In addition, you must be out of the house for at least a day while the procedure is being performed. A home service provider like Home Depot merchant Vince Albachiaro sells their services, but you can also do it yourself. However, reglazing your tub is a one-time process. If you're unhappy with the results, you'll have to seek another solution. 
(To learn more about our miracle method bathtub refinishing process or to request an estimate, schedule an appointment with us today! Click here: www.fgtubandtile.com)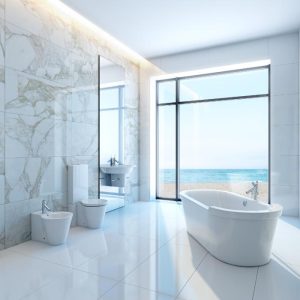 Costs
While reglazing can help restore a bathtub's appearance, it is a temporary fix, and you may need to redo the job after a few years. The procedure uses chemical compounds that are extremely caustic, which can be harmful to people, pets, and pipes. Nonetheless, if you'd like to maintain your tub's beautiful detailing and shape while paying a minimal price, reglazing is a good choice. 
The costs for reglazing a bathtub vary depending on what type of tub you choose and the situation of your bathroom. A professional tub reglazing job can cost anywhere from $325 to $550, and the price can increase with the size and type of the leak. However, if you'd prefer to do it yourself, there are kits available that include foam rollers and gloves. In addition, you can buy pour-on or spray-on coatings. 
Benefits
If you're tired of the color and style of your bathtub, you can resurface it yourself! This is a much cheaper alternative to replacing the entire tub. It can also add up to 10 or 15 years to the life of your tub. Moreover, it doesn't require major plumbing or structural work. Furthermore, you don't have to worry about throwing away the old tub, which helps minimize the environmental impact. 
One of the benefits of reglazing your bathtub is that it can modernize in just 48 hours. While most bathroom renovations take weeks to complete, reglazing can help you get the same look without too much downtime. Plus, you won't need to hire a general contractor to do the work. Instead, a professional will use a chemical cleaner, commercial-grade primer, and an industrial sprayer to apply the new paint. The process will leave a mild chemical smell, but this will quickly dissipate over time. 
Preparation
Before beginning the reglazing process, you must prepare the surface of your tub. You need to remove all oils, soap scum, and silicone materials. This step will help the reglazing materials adhere properly. Also, pay special attention to the drain area, as this is the most vulnerable to failure. 
The first step in bathtub reglazing preparation is to scrub down the entire bathtub thoroughly. You can use a scouring pad or a razor scraper to remove accumulated soap scum. You should also remove any debris that collects under the soap dish and drain. After removing all of this debris, you can apply the refinishing material. 
Durability
While reglazing is a common solution to restore bathtubs, you should be aware that the process isn't a foolproof solution. The reglazed surface may only last seven to ten years, depending on how well you care for it. If you use harsh chemicals on your tub, you could cause damage to the reglazed surface. However, if you follow a few tips, you can extend its life. 
First, you must determine the condition of your bathtub. If it's in good condition, reglazing shouldn't be very expensive. However, if it's in really bad shape, you may want to replace the tub entirely. Otherwise, you may want to opt for other options, such as remodeling. 
Cleaning a reglazed tub
A reglazed tub requires special care. First, you should thoroughly clean it, then gently wipe it dry. This will remove any leftover residue. Next, you should apply a layer of wax in light circular motions. This will keep the surface clean and shiny. Avoid using rubber mats because they may damage the new surface. 
It is also important to keep the bathtub drain area clean. You can use a plastic or wooden caddy to keep small objects and bottles away from the surface. The water in the drain will create a slick surface that can damage the finish.