How's Thick Ceramic Tiles?
Ceramic tile can be a beautiful addition to your home, but it can also be a little confusing. From the thickness to installation, there are a lot of factors that need to be considered before you can decide on this material for your project. 
(Looking for "ceramic bathroom tile ideas"? Contact us Today!)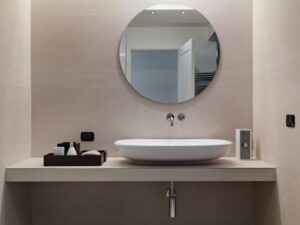 The Thickness Of Tile
Thin cement, slurry mortar, dry mortar, and dry combined mortar are all synonymous with each other. These materials work well in a thin layer and adhere to most floor surfaces. When you are installing ceramic tile, a thin layer of this cement will need to be applied under the tiles to ensure that they stick to the floor or pad. 
The thickness of the mortar can vary based on what type of tile is being installed. Typically, a 3/16-inch thick layer of thin-set will suffice for most tile installations. But, if you are installing large tiles or natural stone with an uneven back, a 1/8-inch layer of thin-set may be necessary. 
How To Calculate The Thickness Of Thinset
The thin-set layer is generally one-third as thick as the depth of the trowel used to spread it. For example, a 3/8-inch square-notched trowel creates a 3/16-inch thick layer of mortar. A 1/4-inch square-notched trowel, on the other hand, leaves a 1/8-inch thin-set layer beneath your ceramic tiles. 
How to Know If the Subfloor Is Strong Enough For Ceramic Tile
A subfloor that is not sufficiently thick will bend if you install large ceramic or porcelain tiles over it. If you are installing these types of tiles in a bathroom, make sure that the subfloor is at least 1/8 inch thick before you start the job. 
Porcelain Tile Versatility
While the most common use for ceramic tile is in residential settings, you can find a wide range of products that can be used to decorate the interior of your home. Some are designed specifically for high-traffic areas such as kitchens and bathrooms, while others can be used at grade level to add a stylish touch to your entryway or living room. 
Porcelain Tile Is More Durable Than Ceramic
In most instances, porcelain tile is the preferred choice for commercial environments or for those who are planning to install it in areas that will receive a lot of foot traffic. It is denser than ordinary ceramic tile, so it does not absorb as much water and can withstand more wear and tear. 
It is also more resistant to scratches, so it is less likely to crack and break if you walk on it. However, this durability comes at a price, as porcelain is heavier than ceramic and can easily damage floors and other surface materials if it is dropped or bumped. 
Porcelain tile is also less susceptible to mold and mildew than ceramic tile, so it's ideal for areas where moisture is present, such as kitchens or bathrooms. This makes it the perfect option for countertops and backsplashes. 
Whether you choose porcelain or ceramic tile, the final selection will come down to what works best for your space and the needs of your family. The right choice can add style and charm to any room, while also keeping it looking like new for years to come!