How to Update Old Bathroom Countertops?
Adding a shiny new countertop to your bathroom is an inexpensive way to freshen up the place. Before you go out and spend your hard-earned cash, make sure you check with a professional to get a good idea of what you need, and what you can afford. They can help you with a countertop estimate, as well as provide design advice and suggestions. 
(Looking for San Diego bathtub refinishing? Contact us today!)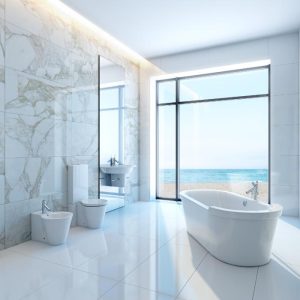 The most important thing to remember is that the countertop you choose should be water-resistant and stain-resistant. If you are planning a major overhaul, a local professional can recommend materials and a budget based on the needs of the project. The cost of a new countertop can range from as little as $50 to as much as $500. Fortunately, there are several affordable options to choose from. 
The name of the game is to choose a countertop that matches the style of the room and complements the existing cabinetry. Laminate countertops are becoming more and more popular, as they have been augmented by new technologies in recent years. 
In particular, laminate countertops have been redesigned to simulate natural stone. A modern countertop can be created out of granite, marble, or even quartz if you're in the market for a more durable countertop. A good countertop will be caulked to prevent dings and dents and should be sealed to prevent water damage. 
It's not a surprise that the bathroom countertop is a major component of a bathroom remodel. A new countertop can enhance the look and feel of the room while preventing damage to existing fixtures. A new countertop is also a great way to improve storage space, as well as limit splashing. A deep basin can help limit the damage that may occur when splashing. A shiny new faucet may be the icing on the cake. 
The cheapest countertop is a good place to start, and it's not hard to find one for under $50. A countertop of this caliber can last a lifetime with proper maintenance. 
The best way to find out how much you'll have to spend is to visit your local home improvement center and ask for a countertop estimate. They can recommend materials based on your budget and the needs of your project, and provide a free quote. It's also a good idea to visit a few different stores to get a sense of what you're looking for. The more options you try, the more likely you'll be able to find the countertop of your dreams. The cost of new countertops can vary by region, so be sure to check with your contractor before spending a dime. Getting a new countertop is a fun and exciting project for the entire family to enjoy. You'll also be amazed at the perks and perks it can bring to your bathroom. The newest and best countertops are often the most expensive, but they make up for it with their quality and longevity. 
The best countertop for the money can be found at your local home improvement center. The newest models are more and more resistant to water and are backed by warranties. A countertop of this caliber can last for years to come, and add a touch of style to your bathroom.