How to Tell the Difference Between Ceramic and Porcelain Tile?
Both ceramic and porcelain tiles are popular flooring and wall surfaces that come in a wide range of colors and designs. However, when comparing these two types of tiles, it can be difficult to know which one is better for your project. 
(Looking for the best tile resurfacer? Contact us today!)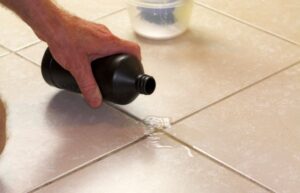 The Difference Between Porcelain and Ceramic
Both porcelain and ceramic tile are made from clays that have been kiln-fired at a high temperature. This results in a more durable and harder tile. The difference between these two types of tiles is that porcelain tiles are often glazed. This gives them a beautiful color and a smooth surface. 
They are also more durable than ceramic tiles, which makes them ideal for heavy-traffic areas like kitchen and bathroom floors. 
How to Tell the Difference Between Ceramic and Porcelain Tile?
The easiest way to tell the difference between ceramic and porcelain tile is to look at the edges of each type of tile. Ceramic tiles have a glazed finish and a surface that is generally duller than porcelain tile, but they can be found in both glossy and matte finishes. 
Another difference between the two is the thickness of the clay body. Both materials have a thin glass-like layer on top of the clay body, but porcelain has a thicker, dense body than ceramic. 
In addition to a higher density, porcelain tile is typically less porous than ceramic, which means it's more likely to resist water. This is important because it can help protect the tile from stains, water damage, and other problems. 
How to Choose the Right Tile?
Choosing the right tile is essential to achieving a beautiful finished project. You want to find a material that is durable, easy to clean, and has the design you desire. You'll also want to decide whether you prefer a glazed or unglazed surface and what size you need. Glazed ceramic tile is more stain-resistant than unglazed tiles, and it is easier to keep clean. 
Both ceramic and porcelain tiles can be used for a variety of applications, from floor and wall coverings to backsplashes. They are also available in a wide range of sizes, shapes, and styles to suit any home. 
How to Maintain Your Ceramic or Porcelain Tile?
Both are easy to clean and can be maintained using the same cleaning methods if you use them properly. Sweep or vacuum your tile on a regular basis and use a tile-friendly cleaner on a monthly basis. Avoid oil-based cleaners, waxes, abrasive scrubbers, or anything that could cause scratching or fading of the tile's surface. 
If you're planning on replacing or repairing damaged ceramic tile, make sure to replace the old grout before installing new grout. This will ensure the grout lines are even and that all of the tiles are well-connected. 
How to Clean Ceramic Tile?
Both types of tiles are relatively easy to clean with normal household cleaners and a soft-bristle brush or mop. They can be used to wipe up spills and other light dirt, but if you're dealing with deep stains or build-up, you may need to use a commercial cleanser to remove them.