How to Seal Wood Countertops in Bathrooms?
Whether you have a butcher block island in your kitchen or a butcher block countertop in your bathroom, you might be wondering how to seal wood countertops. You can seal wood countertops with FDA-approved mineral oil to make them heat-resistant, stain-resistant, and moisture-resistant. When sealing wood countertops, homeowners should make sure to seal the holes inside the countertop and around the edges. 
(For reglazing bathtub services, contact us today!)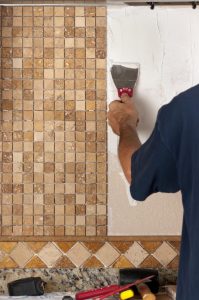 Butcher block is a budget-friendly alternative to natural stone
Butcher block is a budget-friendly stone surface that has many benefits. It is durable, nonporous, and easy to install, and it can be less expensive than laminate or natural stone. However, it needs regular sealing to stay looking its best. It also can be damaged by abrasive cleaners, so it's best to protect it from water damage. Its durability makes it a popular choice for bathroom countertops, especially if you want to create a farmhouse-inspired space. 
Butcher block is durable and beautiful, but it also requires routine maintenance. It should be oil-treated every six months to keep it bacteria-free. You can either apply a food-grade oil to butcher block or rub it into the surface with a soft cloth. Butcher block may also need resurfacing, which depends on the amount of use it gets. Some experts recommend doing this every 10 years. However, resurfacing does require some sanding to get rid of light scratches. 
It is easy to maintain
If you want to seal wood countertops in your bathroom, you should use a food-safe sealant. This is essential if you plan to keep them looking beautiful. Luckily, there are a few products available on the market that can help you get the job done. Rubio Monocoat is one example. You can also look for Tung-oil, which is another type of sealant that's food-safe. 
Oiling your wood countertops regularly is also an easy way to maintain their appearance. Once you've installed your wood countertop, you should apply a thin layer of mineral oil or tung oil to the surface to keep it from drying out. This is the first line of defense against wear and tear, and it's easy to do. Simply pour a generous layer of oil onto the wood surface and let it soak in for 30 minutes. Once you're finished, wipe away any excess with a soft cloth. It's important to repeat this process once a year. 
It is water-resistant
When it comes to securing your wood countertop, there are a few ways you can go about it. First, there are oils. These oils come in different types. The most common are tung oil, teak oil, linseed oil, and walnut oil. Each one has its own advantages and disadvantages, and ultimately, the choice depends on your preferences. For instance, walnut oil can be very expensive and may cause allergic reactions for some people. However, tung oil is an excellent barrier, although it requires several coats to be effective. 
Another option is wood stains. These stains are the best for waterproofing wood in the bathroom, and they can either be used alone or in combination with a sealant. Wood stains have a translucent finish that helps them stay waterproof, and the lighter ones are better for interior woods. 
It is durable
To seal wood countertops, you can either apply a sealer to prevent stains or apply a penetrating oil. Both of these methods will protect your wood from water damage and stains. However, these methods require frequent maintenance. However, if you're going to seal wood countertops in your bathroom, here are some helpful tips. 
Preparation: You should prepare your wood surfaces before applying any sealant or stain. This step will help prevent moisture damage and warping. The right sealant and stain mixture will prevent moisture from reaching your wood surfaces. 
It is easy to clean
One question that a lot of homeowners have is how to make wood countertops in the bathroom easy to clean. Fortunately, there are some simple steps that you can take to make your countertops easy to clean. You can use a paste made from baking soda and water, or a solution of hydrogen peroxide and water. The mixture will work wonders on dirt and grime. You can also apply a sealer to the surface to prevent it from staining. 
Oiling your wood countertops will prevent them from drying out, and it will also provide a nice sheen. If you don't plan to use the countertop for cutting, you can use mineral oil or vegetable oil. Be sure to make sure to let the oil soak into the wood completely, as too much oil can leave a tacky surface that attracts dirt. You can also use white vinegar on your wood surfaces to keep them clean and disinfected.