How to Remove Grout Haze From Ceramic Tile?
If you have tile in your home, you have probably seen haze appear. This is because the grout in your tiles has a buildup of minerals and cement that is clinging to the surface. You can use a window scraper to remove the excess grout. However, you should be careful when using a scraper. It can easily damage your tiles, especially if the surface is natural stone or porous. 
(Looking for resurfacing kitchen counter? Contact us today!)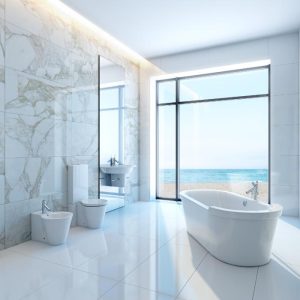 A haze can form if you wait too long to clean your grout. The longer you wait, the harder it will be to get rid of the haze. So, make sure that you remove it as soon as possible. Also, you should never use a corrosive cleaner to clean your grout. Natural stone is more sensitive to acidic substances and can be damaged by harsher cleaners. 
The best way to remove haze is to use a special cleaning product. These products are usually commercially available. Make sure to follow the manufacturer's instructions on the bottle. Many of these products contain strong acids, so be careful and wear gloves. 
After you have cleaned the haze, you will want to rinse the tiles with water. Make sure that the water you use isn't too strong. Using too much water can make the haze reappear when the tile dries. To avoid this, try to use only a few swipes of the sponge. 
Another option to remove the haze is to scrub the tile with a damp terry cloth. You can also buff the grout with a dry terry cloth. Alternatively, you can use a scouring pad. When choosing a scouring pad, you should choose one that is made of synthetic fibers. 
If you don't have a specialized haze remover, you can also try a mixture of white distilled vinegar and water. Vinegar will cut through haze and dissolve the lime deposits in your tile. Be sure to make the vinegar solution at a concentration of at least 1 to 4 parts of vinegar to water. Rinse the tiles with clean water to remove any vinegar residue. 
If the haze is particularly heavy, you may need to apply a stronger haze remover. If this happens, you can also try a special product. You can buy these products at tile stores or tile and stone cleaning manufacturers. 
If you've tried the above options and still can't get rid of the haze, you may have to consider hiring a professional. A professional will be able to provide advice on the type of haze you have, the best way to remove it, and the time needed to remove it. 
Cleaning grout is important for long-term tile installations. There are many different ways to do this, including using a tiling sponge, a mop, or a window scraper. Just remember to use proper precautions and always wear safety glasses. 
Unlike most other types of debris, haze does not come from a clogged drain. Removing it is easy and will help keep your tile looking its best.