How to Remove Bathtub Reglazing Overspray?
If you're wondering how to remove bathtub reglazing overspray, you've come to the right place. Read this article to learn how to avoid ruining your tub and how to mask the surrounding walls, floor, and plumbing fixtures. You'll also discover how to safely sand a tub while it's wet. 
(To learn more about our miracle method bathtub refinishing process or to request an estimate, schedule an appointment with us today! Click here: FG Bathtub Refinishing)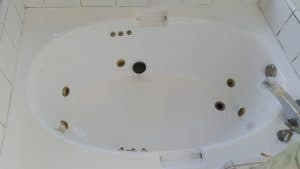 Leaving the house
It is important to protect the rest of your house from the overspray caused by bathtub reglazing. The overspray must be vented out of the house or contained in one room. When applying industrial coatings, bathtub reglaze uses a specialized ventilation and containment system to avoid harming your home or family. 
Masking the surrounding walls, floor, sink, toilet, and plumbing fixtures 
When removing bathtub reglazing over the splash, it is important to protect all plumbing fixtures and surrounding walls. First, mask the floor, walls, and toilet. Then, tape a single sheet of paper over each of them. Also, cover mirrors with masking tape. 
Sanding the tub while it's still wet
The first step in removing the bathtub b reglazing overspread is to sand the tub's surface. You can use an etching powder, or apply water to the surface and sand it. It will help scuff up the surface and make it rough. This step is essential because it allows the epoxy coating to adhere properly. 
If the bathtub's surface is rough, it may be because the refinishing coating was mixed too thinly or because there was not sufficient curing time. Another common cause is improper cleaning of the tub, which can sand down the refinished surface. While slight imperfections are natural, too many are unsightly. 
Avoiding bleaching a stained acrylic tub
The best way to avoid bleaching an acrylic tub is to prevent it from getting stained. First, make sure you clean the surface of the tub thoroughly. Even mild stains can become stubborn if left untreated. To remove stubborn stains, use a mixture of baking soda and hydrogen peroxide. Then, rinse thoroughly. 
When cleaning an acrylic tub, avoid using abrasive chemicals. Abrasive products can scratch the surface, which can damage the acrylic. Try soft clothes and squeegees instead. Although bleach can remove stains, you should avoid it for safety reasons. In addition, it may void your warranty. 
Taking extra precautions to minimize overspray
When it comes to reglazing a bathtub, it is important to take extra precautions to to avoid overspray. First, ensure that the tub is completely dry before you begin work. This will help minimize overspray caused by the silicone in the paint. When preparing the surface, you can place masking paper to avoid dust. Then, you can use a putty knife or bodywork spatula to repair. Once the repair has dried, you can add a bonding agent to finish the job. 
Another way to avoid overspray from a bathtub refinishing job is to make sure there are no leaks on the surface. Any leaks can ruin the new glazed surface. If a leak happens, you must thoroughly clean the surrounding areas. This includes cleaning the ceiling and walls. You should also set up a ventilation fan to keep the surrounding area dry while you work. You can use a mask to cover the fan to prevent any dust from drawing around it.