How to Reface Bathroom Countertops?
If you're looking for an affordable, quick way to give your bathroom a fresh new look, refacing your countertops is one option. You can use paint to refinish a laminate counter, ceramic tile, or other durable surfaces. However, this procedure can be difficult. 
(Looking for an FG resurfacing bathtub? Contact us today!)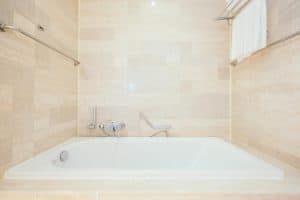 Before you begin, you'll need to prepare your countertop. This will include removing all of your dishes and other objects, and ensuring that your countertop is completely sealed. It may also require sanding and chemical stripping. Then, you can apply a coating. Some countertop refinishing kits can make the process easier. 
Refacing your countertops can be done in as little as six hours, depending on the type of countertop. For example, you can use a countertop resurfacing kit to refinish a granite or tile countertop. Alternatively, you can use a laminate repair pen to repair defects in the material. Using epoxy can also be a good way to resurface your countertop. 
In order to reface your bathroom countertops, you'll need to remove your sink faucet. You'll also need to apply a sealant that will protect the counters from water and other elements. This step will take a couple of hours, but it's definitely worth it. After that, you'll be ready to start painting. 
Unlike other kinds of countertops, laminate can be repainted. Laminate is a common material used in bathrooms. While it is inexpensive and easy to install, it isn't always the best-looking choice. To refinish your laminate, you'll need to clean it and apply an enamel finish. 
If you're using epoxy, you'll need to mix the epoxy with white pigment paint. After that, you'll need to spread the paint around the edges of your countertop with a putty knife. Leave the paste on for a few hours, then brush it off with a paper towel. 
When refacing your bathroom countertops, you should always use the correct primer. If you're unsure, check with a local hardware store. Otherwise, you'll have a hard time achieving a solid, even finish. 
Depending on the type of epoxy, you'll need to apply more than one coat. After that, you'll need to wait a few hours for the paint to dry. Once it's dry, you'll need to apply a final coat to ensure that your paint looks solid. 
There are a few different types of resurfacing, and you'll need to choose which one is the best for your home. Rust-Oleum Countertop Coating is an affordable option, and it's formulated with epoxy to provide a smooth, durable finish. It's also resistant to moisture and bacteria. It can be tinted to twelve different colors. 
Another option for refacing your bathroom countertops is to use a peel-and-stick adhesive. This is like wallpaper, and it's a bit less expensive than paint. But, it won't be as durable or as attractive. Unless you want to cover the entire countertop in the adhesive, it's better to use a primer and paint instead. 
Whether you're refacing your bathroom countertop or not, it's always a good idea to make sure that you use the right paint. A professional refinishing company can help you with this. They'll make sure that you love the final results.