How to Paint Formica Bathroom Countertops?
Whether you want to change the color of your countertops or you simply want to give them a fresh look, you can easily paint Formica bathroom countertops. You will not need any special skills or equipment to do this. You will just need to clear the surface, purchase the right supplies, and prepare the counters for painting. 
(Searching in Google "reglazing bathtub near me"? Contact us today!)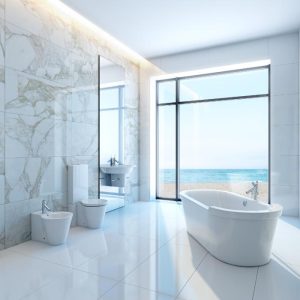 The first thing you should do is prepare your Formica. You can use a degreasing cleaner-soaked sponge to get rid of any grease that may be on the surface. After that, you can sand the countertop, as this will help the primer stick better to the surface. 
After sanding the surface, you will want to use a paint roller to paint the first coat of primer. It is important to cover the countertop evenly and to get it to dry properly before you start applying another coat. You will also want to use a paint scraper to remove any drips of resin. You will want to give the countertop at least three days to dry. 
Now, you will want to choose a paint color that will look good on your Formica. You can go with a white or off-white color, or you can choose something more eye-catching, such as a charcoal or black color. You will want to pick high-quality acrylic paint for this project. If you use low-quality paint, the paint may peel off. You will also want to use a high-quality primer, as this will ensure that the paint sticks to the surface and lasts longer. 
Once you have finished painting the first coat, you will need to let the counter dry for at least 24 hours. This will help the counter to dry completely and give it a nice shine. You may want to paint your countertops a second time, especially if they are dark. This will give you the most coverage. 
Another thing you should do is measure the surface area of the countertops to ensure you purchase the right amount of paint. Also, you will want to research the best colors for your specific project. You can find many good online sources for paint colors. 
It is also a good idea to pick up some painter's gloves. The gloves will protect your hands, and you will want to wear them throughout the painting process to ensure you don't scratch or stain the surface. You will also want to use protective tape on your countertops. These tapes will help prevent paint from sticking to the edges of the counters and sinks. You should also make sure to remove the tape before washing the countertops, as this will help keep the edges clean. 
You can also buy a heat mat to help protect the paint from scorch marks. Also, make sure that you use a cutting board to prevent the paint from chipping. This will help prevent dents and dings. 
You will also want to buy a paint scraper and a foam roller to make painting the countertops as easy as possible. You may also want to use painter's tape to help mask off areas.