San Diego Bathtub Resurfacing
Painting countertops like marble can be a challenge. To get the effect that you are after, you will need to follow a few steps. Luckily, the process is relatively simple. However, it will take some time to complete. You should prepare your surface properly and allow for proper drying time between coats. 
(Looking for resurfacing kitchen counter? Contact us today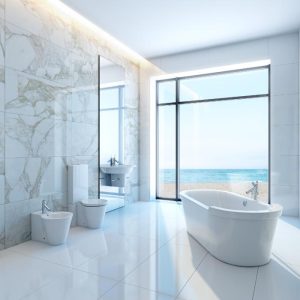 Start by cleaning your countertop. Use a vinegar and baking soda solution to get the job done. You may need to wait several days for the cleaning process to be complete. You should also make sure that all areas are completely dry before applying the paint. If you don't, the paint may not adhere well to the surface. 
Once you have cleaned your countertop, you can begin by applying primer. You can use a small roller to cover the surface. This should be done in three or four sections at a time. If you don't have a roller, you can use a sponge. Using a sponge will give you a more even application. 
Next, you can apply white paint to the countertop. This should be done with a two-inch natural bristle brush. You can also opt to use a foam brush. You should be able to reach full coverage with a second coat. 
To finish, you can seal your work with an oil-based polyurethane. You will also want to use a natural bristle brush to apply the polyurethane. This is because oil-based paint will last longer than acrylic or latex paint. If you choose to do this, be aware that you can produce bubbles if you don't handle it correctly. 
To make your counters look like marble, you can add veins. This is an art that requires patience and creativity. You should also consider using a variety of colors for the best effect. You can use light colors to soften the veins, or a darker shade to create a more dramatic effect. 
To make sure that your countertop gets the best look possible, you should read the instructions on the container of your paint. This will ensure that you are using the correct techniques and materials. It is also recommended that you wear rubber gloves. This will help you protect your hands and keep you from smearing the paint. It is also a good idea to have a small tack cloth on hand to wipe your counters as needed. 
When you are finished, you should put your small appliances back in place. Leave your countertop to dry for a minimum of four hours. Then, you can use a fan to push the fumes out. It is also a good idea to sand the top surfaces of your counters to smooth them out. You can also use fine-grit sandpaper for this. 
You can also choose to use epoxy. This will give your countertop a glossy finish. It also adds durability to the finished product. In addition, you can use a straw to gently pop any epoxy bubbles that you may encounter.