How to Paint Ceramic Tile Backsplash?
Getting a fresh look for your tile backsplash is possible with the proper paint. You can choose from glossy or matte, high gloss or low gloss, depending on the type of look you want for your tile. If you want to create a more polished look, you might consider applying polyurethane to your painted tiles. This paint is especially useful for bathroom areas and should be applied in two coats. 
(Looking for San Diego ceramic tile refinishing? Contact us today!)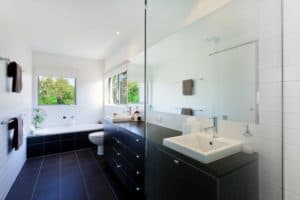 The first step is priming the ceramic tile. You can apply primer with a flat paintbrush or a foam roller. You'll want to make sure the entire surface is covered, but you don't want to use a brush over the grout lines. This will ensure a smooth canvas for the final coat of paint. You should leave the primer for at least 24 hours before you begin painting the tile. 
After the primer is dry, you can begin painting your ceramic tile. You can either paint the backsplash in layers, or you can start with a single coat. Depending on the color of the tile, you might need to paint two or three coats. You can also opt to add a layer of water-based clear coating over the painted tile, which will protect it. 
When you're ready to begin painting the tile, wear protective gear such as a face mask and safety glasses. You should also clean the tile with a rag and mild detergent before you start. You can also use a degreaser. You'll need to remove any dirt or scum on the tile, as well as any sanding dust. This will help you avoid getting scratches while you're sanding. 
If you're planning to apply oil-based paint to the tile, you should be aware that it will take a long time to dry. It's best to apply it in thin coats. If you are able to, leave a few days between coats. In addition, be careful not to get too much paint on the countertop. This will make it a bit more difficult to clean up later on. 
A second coat of primer is usually recommended. It's also recommended to sand the surface thoroughly before you apply your paint. You can use an orbital sander, but you'll want to be careful not to press too hard. Using too much pressure can cause deep scratches. 
You can also choose to use latex or acrylic paint for your tile backsplash. Both have their pros and cons. The best paint for tile is the one that has a glossy finish, as it will be more durable. If you're not sure which to choose, you might consider painting the entire backsplash in a color that complements the cabinets. It might also be a good idea to have a professional come out to paint your tile. However, you can save money and have the job done in a shorter period of time by doing the work yourself. 
Before you begin painting your tile, you should read the instructions on the paint you're planning to use. For instance, you may have to sand the tile with a fine grit sandpaper before applying the first coat of primer. This will ensure that your tiles will adhere to the primer better.