How to Paint Ceramic Bathroom Tile?
Painting ceramic bathroom tile is an inexpensive way to give your home a new look. However, there are a few things you must consider before beginning the project. Choosing a primer that is specifically for ceramic tiles is important. Primer will help the paint adhere to the tile and prevent it from flaking. Depending on the type of tile you are painting, you will need to apply two to three coats. 
(Looking for countertop refinishing cost? Contact us today!)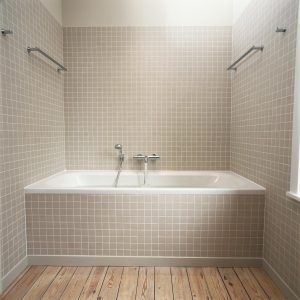 Whether you're painting a tile floor, walls, or shower, you'll need to take care to prepare the surface before you start. This can include sanding and cleaning the tile. You can sand by hand or by using an electric sander. To avoid damaging your tile, use an orbital sander with a low setting. 
When you're sanding your tiles, make sure you wear safety glasses. The paint fumes are extremely toxic and you don't want to breathe them. Use a fan to keep your room well ventilated. If you're working on the floor, make sure to wear shoes that won't show dirt. It's also a good idea to use a face mask. 
Next, use an abrasive cleaning agent to remove any dirt, mildew, or other buildup. Clean the entire tile area, including the grout. Leave the cleaning solution for at least an hour to make sure the dirt is removed. After the cleaning is complete, vacuum the tiles to remove any dust. 
Once the tile has been cleaned, you can begin priming. Several types of primer will work, but for ceramic tiles, you'll need a high-adhesion primer. Zinsser Bullseye 1-2-3 is a good all-around primer. Apply it with a roller to the whole surface. Be sure to apply it evenly to prevent buildup. Let it dry completely according to the manufacturer's instructions. 
Now that the primer is dry, it's time to paint. A paint gun works better than a brush for this application. Painter's tape is a convenient tool for covering adjacent tiles. Alternatively, you can cut strips of drop cloth to place over the tiles to protect them. 
Ceramic wall tile can be painted with a variety of water-based or latex paint. Acrylic paint works better on tile because it's more flexible. An acrylic primer will also work on the surface. Some specialty paint stores sell primer that is formulated to stick to ceramic surfaces. In addition to a primer, you'll need to choose a base color. Many consumers like to choose ceramic tiles because of their durability. Enamel paint is also a popular choice because it is stain-resistant and will stand up to high humidity. 
For a more durable finish, you may want to use a sealant to protect the finished paint job. Epoxy kits are also an option, as they are easy to apply and offer a quick drying time. Sealants are also helpful in protecting the tile from scratches and grime. 
When you're done painting your bathroom tiles, be sure to wipe them down to remove any leftover paint or sand dust. Allow a second coat to dry for at least two hours before wiping the tiles.