How to Paint Bathroom Countertops to Look Like Granite?
Whether you've had your bathroom countertops for years or have decided you want to give them a makeover, you can do it yourself. Painting a countertop is an easy process that requires no sanding, and you can change the color whenever you want. It's a great way to experiment with different colors, and YouTube has plenty of tips and tricks for painting countertops. 
(Searching in Google "tile countertop refinisher"? Contact us today!)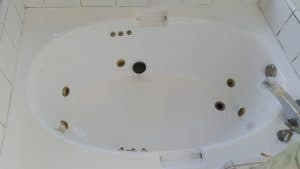 Painting old granite to look like granite
You can paint an old granite bathroom countertop to look like granite with an inexpensive paint kit. Many of these paint kits come with specific steps to complete your project. They typically use two types of paint and one or two sponge layers. It is essential to follow the instructions carefully and mix the colors properly. Using an incorrect technique can create an unappealing result. If you are not confident in your painting abilities, you can always hire a professional to complete the project. 
First, you must sand the old granite countertop so that it is ready to receive primer and paint. Then, you should put tape on the perimeter of the countertop so that it doesn't overlap. If you do not want to use tape, make sure you cover the edges of the countertop with a protective layer. You can also use newspaper to protect the cabinets. 
Applying two coats of paint
Rather than installing new countertops, you can paint your bathroom countertops yourself. Before you do so, you should prime the countertop with a nonporous primer. Afterward, apply two coats of paint to the countertops. During this process, you should allow the first coat to dry completely. 
For the first coat, use a white primer and let it dry for four hours. The second coat should be a semi-gloss or latex enamel paint. After the second coat is dry, apply a coat of paint that matches the original color. 
Preparing the surface
If you want to paint your bathroom countertops to look like granite, you must prepare the surface first. Sandpaper or a belt sander can be used to prepare the surface. Be careful not to oversand the surface because this can ruin the finished product. Before you begin painting, clean the surface with clean water. 
Once the surface is clean and dry, you can begin painting. For a smooth finish, you should start with the base color. You will need a primer that will cover the entire surface. Once you apply the primer, allow it to dry for eight hours. This will prevent dust from getting stuck in the primer and preventing the top layers from adhering properly. When you are ready to paint the main color, use a sponge or a paint roller. 
Sealing with acrylic sealant
Choosing the perfect countertop for your bathroom can be an overwhelming experience. There are hundreds of choices to consider. From natural stones like granite and marble to engineered minerals like quartz and cultured marble, you can find the perfect match for your bathroom. Granite requires yearly sealing to keep it looking its best. However, quartz and engineered stone do not require annual sealing, and they are incredibly durable. You can even choose a glass countertop to give your bathroom a modern look. They're also recyclable and eco-friendly. 
Acrylic countertops are prone to heat damage. If you frequently use a hair dryer or curling iron, you run the risk of burning marks or discoloration. In contrast, modern vanities have solid ceramic or porcelain tops to resist water and heat.