Paint Bathroom Countertops to Look Like Marble
Whether you're updating your kitchen or simply re-doing your bathroom, painting your countertops is a simple and inexpensive way to get a whole new look. If you're not sure if you're ready to take on this project on your own, you may want to consider hiring a professional. They can make the task a lot easier for you and ensure that your new countertops look as good as possible. 
(Searching in Google "shower tile refinishers"? Contact us today!)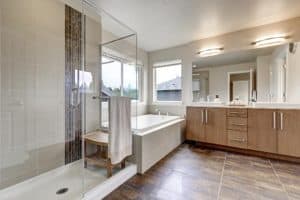 When it comes to painting your counters, you'll need to use a quality primer, a good sealer, and some paint. You can purchase a countertop painting kit that comes with all the supplies you'll need, but you can also choose to do it yourself. To ensure that your project goes smoothly, follow the instructions in the paint container, and allow for the proper drying time between coats. 
The trick to creating a realistic marble look is to achieve the best blend. This is achieved by using a variety of colors, which should be applied in different combinations to create the look you're after. You'll also need to avoid using the same color for the entire counter, which will result in a less than realistic effect. The same applies to veining. 
The most obvious way to achieve the marble-like effect is by using a paint that has veins. This can be accomplished by using a small artist's brush, but you may also want to try using a sea sponge. This will give you a more natural looking effect and soften the lines. You can even mist the paint with water to achieve the same effect. 
Another useful tip is to mix a little paint with water to create a paint/water glaze. This can be done with a brush or by shaking the bottle. The end result is an interesting texture that can be blasted over the top of your counters. To help remove the excess water from your countertop, you can use a paint scraper. You can also use a damp rag to wipe the surface clean of dust and debris. 
Similarly, you'll need to do a similar thing for the backsplash. This isn't as hard as it sounds, as long as you don't over-spray. The veins on the backsplash should be diagonally similar to those on the main surface of the countertop. It's also important to watch out for drips, which you can pop with a straw or a paint scraper. 
The key to painting your bathroom countertops to look like marble is to be creative and apply a mixture of paints in various sizes and shades. You should also do your research on the correct sizing and application techniques to ensure that your work looks as good as possible. If you're not confident in your abilities, you may want to hire a pro to get the job done faster and cheaper. 
The best part is that you can complete the project in a fraction of the cost of replacing the countertops. You can also have fun doing it, which is one of the main reasons why this project is so popular.