How to Make Countertops Look Like Marble?
If you've always wanted your countertops to look like marble, you can apply an even layer of marble-look paint to the surface. You should apply a coat that's about 1/8-inch thick. You can also use a primer coat to protect the surface from any damage. This method will leave your countertops looking just like a piece of marble. 
(Planning for a DIY ceramic tile refinishing? Save time by contacting us today!)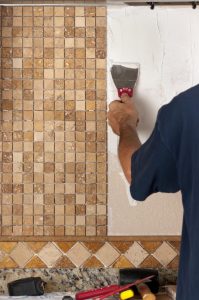 Giani Carrara White Marble Epoxy Countertop Kit
Giani Countertop Paint is a three-step application system that will transform the surface of your countertop in a weekend. Each kit comes with the tools and materials needed to cover a surface area of 35 square feet. In a weekend, you can transform your countertop surfaces from drab to beautiful. 
The Giani Carrara White Marble Epoxy Counter topcoat is a non-yellowing epoxy finish that will give your countertops a stunning and long-lasting finish. The product is also non-toxic and has zero VOCs, making it safe for children and pets. The Giani countertop topcoat is made of thick PVC material and covers up to 35 square feet or sixteen running feet of standard 24″ wide countertops. Its grid design makes it easy to measure and cut. You can even use this to decorate your home or simply add an extra touch to your kitchen with this stunning finish. 
Body filler
Whether you're putting a new backsplash in your kitchen or need a new countertop, body filler is the solution. This versatile product helps make countertops look like marble, granite, or other natural stone. It can also be used on rough edges and seams. Body filler hardens fast and can be used to smooth burred edges. 
Before applying body filler, you must prepare the countertop. Sandpaper is a great way to prep a countertop before applying body filler. This will help the epoxy adhere to the surface. 
Polyurethane
If you want to apply a finish to your countertops that looks like marble, polyurethane may be the answer. This varnish is water-resistant and will cover any imperfections that you may have. It will not stain or scratch, and you don't need special skills to apply it. Applying a coat of this varnish will take about two days, and you should wait at least three days before using the countertop. 
Before you begin painting your countertops, you should carefully prepare them by blurring the edges. Next, apply a coat of oil-based polyurethane and allow the countertop to dry. It is important to use a natural bristle brush when applying polyurethane because a synthetic brush may result in bubbles. Once the polyurethane has dried, you can remove the painter's tape and start applying the next coat. 
Primer coat
In order to make your countertops look like marble, you must start by applying a primer coat. This coat will help the paint adhere to the surface. Apply it using a roller cover or foam brush. Remember to apply a light coat and avoid using too much pressure. You don't want to cover the entire surface or paint over a spot that wasn't completely sanded. 
Once the primer coat has been applied, you can then start painting on the faux marble color. You can buy a marble paint kit and apply it by using the same technique as you did with the Kilz primer. Use a two-inch angled brush to apply the paint on the edges and a foam roller to paint the rest of the countertop. It will take about an hour to dry, but if it is not dry enough, you may have to apply a second coat.