San Diego Bathtub Resurfacing
Porcelain tile on concrete is a great way to improve the look and feel of your home. This type of flooring is also a durable choice that can hold up well over time. If you decide to install porcelain tiles over your concrete, you will need to know the right steps to get the job done. 
(Looking for countertop refinishing? Contact us today!)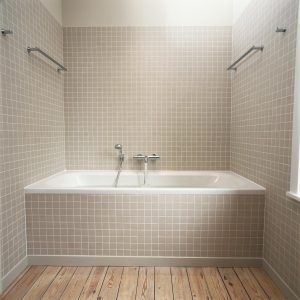 The first step to installing porcelain on your concrete is to clean the surface. This can be accomplished using a broom and dust mop. You should also make sure that the floor is level and free of surface contaminants. You can use a chalk line to mark where the concrete installation will begin. 
The next step in taking care of your concrete slab is to apply a sealer to the floor. This will allow the mortar to adhere more strongly and prevent moisture from seeping under the tiles. If you are installing outdoor porcelain tiles, you may want to consider a slip-resistant coating. You can buy these in a wide variety of colors and styles. 
You should also consider a self-leveling compound. This will help to make your concrete slab flat. You should apply the compound to your entire slab, not just in a few spots. Lastly, consider a patching solution. You can also apply an anti-fracture membrane. These are designed to protect your tiles from the small imperfections in the concrete. 
It's no secret that installing porcelain tiles on concrete is not for the faint of heart. While they are durable and beautiful, there are some precautions you should take to ensure your project goes off without a hitch. One of the best things you can do is to wear appropriate safety equipment and use proper techniques. In addition, you should be familiar with the proper application of the various tools and materials necessary to complete the task. 
The best way to do this is to invest in a quality set of tools. Some of these tools can be substituted with others, but having them all on hand is the best way to ensure a job well done. The aforementioned TSP solution can be used to clean the floor and rid it of dirt and oil. 
If you are not handy with tools, you can hire a professional to do the heavy lifting. This will ensure that your job is done right the first time around. 
The most important thing to remember when installing porcelain on your concrete is to take the time to prepare the surface. This includes leveling the concrete and removing any surface contaminants. In addition, you should also take a moment to look for cracks. If you notice a large or even small crack in your concrete, you will need to fill it in before you begin your project. 
The "thin-set" method is another method that is commonly used to install tile over concrete. This method uses a polymer-modified thin-set that hardens after the initial mixing. To determine how much mortar you need, you will need to comb it with a small trowel. This is the best way to ensure you are getting the proper amount of mortar underneath your tile.