How To Install Ceramics Tiles Shower?
Ceramic tile is an ideal choice for tiling your shower because it provides long-lasting beauty and durability. It's available in an array of colors, textures, and styles, from high-end luxury to budget-friendly options. 
(Looking for "does reglaze bathtub work"? Contact us Today!)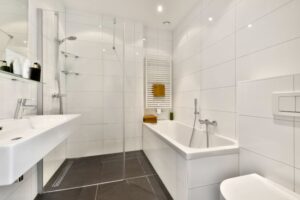 Choosing the Right Tile
Before you begin, make sure your shower area is dry and structurally sound. Check insulation, studs, and any rotten wood behind the tiles for signs of damage. If you see any of these, stop work and call a professional to inspect the area. 
Remove Old Tile
If you have an old tiled shower, begin by chipping away loose pieces with a hammer and prybar. If the tile is attached to the cement backer board or is directly glued to a stud, it will need to be removed as well. The old drywall, if present, can also be removed, although it may need to be replaced before the new tile can be installed. 
Layout Your Tile
Before applying tile, use a story pole to measure your work area and standardize locations on the wall. This will help you avoid measuring and marking with a tape measure as you move forward. 
Create a Temporary Guide for Your Tile
To avoid accidentally cutting through your tile or applying thin-set mortar to the waterproof board before it's dry, cut a piece of lightweight plywood that is about 8 feet long. This board can be used as a temporary guide and rest, so it's important to get it level and square. 
Apply Thinset Mortar to Your Waterproof Board and Your Tile
After preparing your mortar mix, combine it with water in a bucket. Only use a small amount at a time, and mix it according to the package instructions. Once the thin-set has been mixed, spread it on your waterproof board and your temporary guideboard with a notched trowel. Once the thin set is dry, install your tile, using the board as a reference. 
Start at the bottom and work outward, adjusting as needed to fit your space and ensure you have enough room to maneuver. Once the entire shower is covered, seal and grout to complete the installation. 
Selecting a Color and Style
When you're shopping for tile, think about the style you want your bathroom to have. Are you going for a contemporary or traditional look? Keeping this in mind will help you narrow your search. 
Consider the cost of the tile you're considering as well. Some styles, such as slate tiles, are more expensive than others. Depending on the quality of the tile you choose, your shower tiling project could end up costing more than you originally planned. 
Choosing the right tiles is an essential part of your shower remodeling project. Before you buy, consider your budget, the look you're going for, and the durability you need. 
You'll also need the right tools and supplies to get your project done properly. Having the proper tools and supplies can save you money and time. 
Once you've decided what type of tile you'd like to use, it's time to start purchasing your materials. Be aware that tile installation can be a very time-consuming process, and you may not want to tackle this job yourself.