San Diego Bathtub Resurfacing
If you are interested in installing ceramic floor tiles in your home, there are a few things you need to know. There are several different types, so it is important to choose one that will last for many years. You should also consider the cost and the layout of the tile. Once you have a general idea of the process, you can choose the best tile for your needs.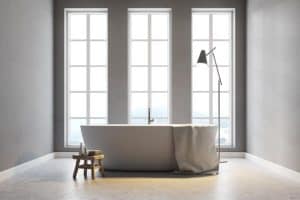 Durable
Ceramic tiles are one of the most durable types of flooring available. They can last anywhere from ten to twenty years with proper maintenance. They can also withstand heavy furniture without cracking, making them ideal for commercial settings. They are also scratch-resistant, which makes them great for high-traffic areas. 
Easy to care for
Ceramic tile floors are easy to clean. You can easily sweep the floors and mop them weekly to remove dirt and debris. You should use warm water to mop to restore the glossy appearance. If you have a large area with tiles, you may want to use string mops or strip mops to clean the floors. You can also use diluted bleach to remove stains. Make sure to rinse thoroughly after cleaning. 
Cost
The cost of installing ceramic floor tile varies based on the materials and style of the tile. It can be made of ceramic, porcelain, mosaic, vinyl, or natural stone. The size of the tile also plays a part in the cost. Large tiles require less labor and finishing time than smaller tiles. However, transparent glass tile and herringbone or diagonal patterns can add up to 20% more labor costs. 
Layout
There are several factors to consider when planning the layout of your ceramic floor tile. The first is the size of the tiles. Depending on the size of the tiles, you may have to cut some. For instance, if you have a large room, you might want to consider a square-shaped ceramic tile instead of a round one. 
Premixed adhesives
There are several types of premixed adhesives for ceramic floor tile. You may be wondering which ones are best for your situation. It's best to read the instructions carefully before buying and ask questions at your home improvement store if you have any. Some brands of adhesives offer stronger bonding and faster drying times than others. Others may be better suited to damp conditions and less prone to shrinking. 
Pre-measured mortar
The first step in installing ceramic floor tile is to prepare the floor surface. It should be clean and level, but a little rough. It should also be at least 3/4″ below the finished floor height. You should measure the area and add an inch to the height of the floor to allow for the tile backsplash. You will also need grout and mortar.