How To Fix Cracked Ceramic Tiles?
Ceramic tile is a popular choice for flooring and backsplash due to its durability and easy cleaning. Unfortunately, it can also crack and break due to various factors. 
(Looking for "bathtub reglazing repair"? Contact us Today!)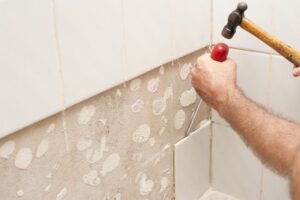 When a tile breaks, it can cause a large amount of damage to the floor and walls surrounding it. If you notice a crack in your ceramic tile, it's important to repair it before the damage gets worse and a bigger problem develops. 
Depending on the severity of the damage, there are a few different ways to fix cracked ceramic tile. One way is to fill in the crack with epoxy. This can be done easily and inexpensively if you have the right tools and materials. 
You can also paint over a crack to conceal it and make it disappear. This is a great option for small hairline cracks, as it's easy to do and can be matched to the color of your tile. 
Before repairing a crack, you need to determine what caused it. It's important to determine this because it helps you decide what type of ceramic tile repair strategy is best for you. 
If it's a Hairline Crack: Fixing the Crack with Epoxy
You'll need to purchase 2-part epoxy and a toothpick or craft stick to use for this task. Mix the epoxy on a strip of cardboard or scrap wood, then apply it to the crack using the craft stick or toothpick. Once the epoxy has hardened, remove the stick and paint over it with urethane-based paint. 
If it's a Hairline Crack: Paint Over the Epoxy
If you have a small hairline crack in your ceramic tile, painting over it is an easy and inexpensive way to hide it and make it disappear. You'll need to choose a paint that matches the color of your tile, but this isn't a difficult task. 
If it's a Hairline Crack: Patch the Crack with Grout
This is an excellent choice if you have tile that is a multiple-colored or multi-patterned variety. You'll be able to find grout in a color that matches the tile, making it a very simple and cost-effective fix. 
If it's a Hairline Crack: Replace the Tile
When repairing a broken ceramic tile, you need to decide whether or not you want to do the repair yourself. If you prefer a professional job, hiring someone to do it is an option. However, it's much more expensive than fixing the cracked tile yourself and can be time-consuming as well. 
If it's a Large Crack: Replacing the Tile
For larger cracks, replacing the tile is an ideal solution and can be very inexpensive if you have all the right materials. The process is fairly straightforward, although you do need to have a hammer and center punch on hand as well as the necessary materials. 
If you do the work yourself, the whole process should only take a few hours. Once the crack has been repaired, be sure to let it dry before you walk on it or use the room.