How to Decorate a Bathroom on a Budget?
Decorating your bathroom can be fun and easy. But it can also be a challenge. You need to think about the architectural style of your home and the layout of the room. And, of course, you need to keep your budget in mind. However, even if you do not have a lot of money to spend, you can create a luxurious and beautiful bathroom with just a few key elements. 
(Looking for bathtub and tile reglazing? Contact us today!)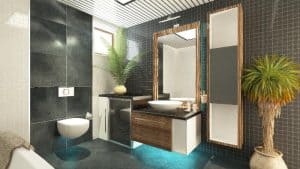 The best way to decorate a bathroom is to make it a unifying space. One way to do this is to incorporate a coordinating color into the room. For instance, you could paint the wall a shade of green. This will bring the room together and give the illusion of more space. 
Other options for unifying your bathroom include solid-colored hand towels and throw rugs. You can also put faux green floral garlands on your ceiling. 
Another idea is to create a wall gallery of your favorite objects. You can use art and decor from your other rooms, or you can ask for donations. If you need help with a little extra funding, you can browse a Facebook marketplace that carries affordable items. 
Shower curtains are a great way to make a statement in your bathroom. There are many shower curtain designs available, including those with a whimsical pattern or colorful stripes. 
If you're on a budget, you can get a designer touch without breaking the bank by using contact paper and wallpaper. Also, you can install glass shower screens for a modern look. These can be found online or in home improvement stores. 
You may also want to consider adding a few houseplants. Using live plants can add a sense of nature to your bathroom, and they're a great way to freshen up a small space. Make sure that you use a light and water-friendly container. A few plants should be enough. 
One of the easiest ways to add interest to a room is with lighting. Lighting can be controlled by a switch on the wall or ceiling, and you can even install can lights in the ceiling to create a relaxing and tranquil atmosphere for long soaks in the tub. 
Keeping your counters clear of clutter is a good way to keep your bathroom looking clean and tidy. You can also buy decorative soap covers, soap dishes and apothecary jars to keep your essentials in style. 
You might also want to consider switching out your old faucets, towel bars and sink handles for something more contemporary. These can be purchased at a number of stores, and they can add a sleek, showroom-quality sparkle to your bath. 
Lastly, you might want to change the look of your mirror. If you have a traditional vanity, try switching to a white or metal one. It will make your bathroom seem larger and brighter. In addition, you can replace the brushed nickel hardware with a more polished brass look. 
The shower is the obvious choice for the most fun and functional bathroom accessory, but you can also choose other less visible items. Adding a few candles can also help to make your bathroom a warm, cozy place to spend a relaxing morning or afternoon.