How to Clean Granite Bathroom Countertops?
If you want to maintain the shine and luster of your granite bathroom countertops, here are some tips. Avoid acidic cleaners. Use a clean cloth. And maintain the seal. By following these tips, you will be able to maintain the original color and shine of your granite bathroom countertops. You will be amazed at how simple and easy it is to maintain these surfaces. 
Looking for "Bathtub reglazing near me"? Contact us today!)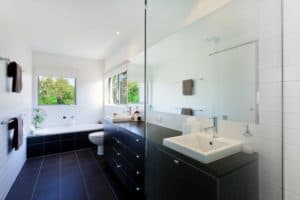 Avoiding acidic cleaners
To protect your granite bathroom countertops, avoid using harsh acidic cleaners on your countertop. These cleaners can erode the sealant and damage the surface of the stone. To clean your granite countertop, use a neutral pH-based soap and water solution. Avoid using lemon juice, ammonia, or vinegar, which can damage the natural stone. 
Although granite is not as porous as marble, it is still susceptible to acid-based cleaning solutions. These solutions can etch the surface of your stone, resulting in dull etch marks. In some cases, acidic cleaners can even disfigure the stone permanently. 
For stubborn stains, a mixture of baking soda and water can be used. However, it is important to avoid using steel wool to scrub your granite, as this will cause damage. 
Using a paper towel
Using a paper towel to clean granite counters will not only remove stains but will also reduce the risk of damaging them. While a paper towel will not do as thorough of a job as a sponge, it will certainly get the job done. For stubborn stains, try applying a paste made of hydrogen peroxide and water. Apply this paste to the stained area and rub gently with a soft cloth. Then, rinse it off using warm water. 
When cleaning granite countertops, always use a wet paper towel instead of a dish rag or a dish cleaning spray. Granite is an acidic material, so using acids on it will damage it. Using a paper towel will clean granite and help maintain its beauty, but you should not scrub it too hard. 
Maintaining the seal
Granite surfaces vary widely in quality and need different care. It is best to apply a sealant as directed by the manufacturer. To ensure the best sealer results, use a lint-free brush to apply the sealer. Then, allow it to "cure" for at least 48 hours before washing the countertops. Many installers recommend re-sealing every year, but this may not be necessary. You can use social Protectants to eliminate the need for re-sealing. The social Protectants work to penetrate the stone and improve its protective ability. 
One of the most important things you can do to maintain the seal on your granite bathroom countertops is to use a sealant that's designed for granite. You can find one at your local home improvement store. Follow the directions on the bottle, and make sure to start at one end and work your way to the other. Use a soft microfiber cloth to apply the sealant, and use it in circular motions.