How to Clean Ceramic Tile?
Whether you have tiles on your kitchen floor or bathroom backsplash, knowing how to clean ceramic tile will help you keep them looking great. These easy-to-clean surfaces are durable and versatile, adding beauty and ease to any room. But like any other surface, they need proper care and maintenance to stay clean and shiny.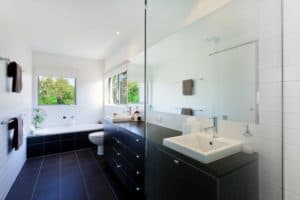 First, clean your tile floors with a mild dish detergent in warm water. This will remove any grease or dirt that may have built up. You can use a brush or a sponge to clean the surface of your ceramic tile. You can also use a canister vacuum to remove loose dust and debris. 
If your tiles are particularly stained, consider hiring a professional cleaning service to remove the stain. This will save you time and ensure the best condition of your tile. You can also use baking soda and vinegar to remove stains. The combination of these two natural cleaners can remove almost anything from ceramic tiles. 
Once the stains are gone, you should follow up by rinsing your tile with fresh water. This prevents new stains from setting and helps you avoid accidents. After rinsing, you should dry your tiles thoroughly. Alternatively, you can use a cloth to wipe them clean. 
You should also clean the grout. This is a very important part of deep cleaning your tile. Grout holds dirt and moisture and it can be hard to remove. It's also extremely delicate and should be treated with care. Cleaning your grout with a professional can restore its original shine. 
If you do not want to hire a professional, you can use a steam cleaner. This type of cleaner is effective at removing tough stains. However, you should test the cleaner on a small, unobtrusive area first. 
You can also use an ammonia-based cleaning recipe. You will need a respirator for this process. It's also recommended that you use a soft-bristled brush instead of a metal brush, which could scratch the surface of your tile. You should also avoid using a sponge mop. This type of mop is too rough for the surface of your tile. 
To clean your tiles, you will also need a string mop, strip mop, or a chamois-type mop. The string or strip mop heads are safer for your tile because they do not push dirt into the grout lines. You should also use a soft bristle attachment. 
When you are cleaning ceramic tile, you should also use a mild dish soap. Liquid dish soap has a variety of uses, including a coin cleaner and laundry detergent. You can also use liquid dish soap as a kitchen cleaner. It cuts through grease and can also be used as a cleaning solution for cookware. If you prefer, you can use a mild cleaner without the liquid dish soap. 
When you clean your ceramic tile, you should also make sure that you remove all sand, dirt, and debris. Sweep to get debris out of the tiles before it gets embedded into the grout. If you have a lot of dirt, you may want to use a swab to loosen it.