How to Clean Ceramic Tile in the Shower?
There are many cleaning solutions that can be used to clean ceramic tile in the shower. You should always follow the instructions on the label of the product you are using. This will ensure that the solution you are using does not damage your tiles. 
(Searching in Google "Ceramic Tile Refinishing"? Contact us today!)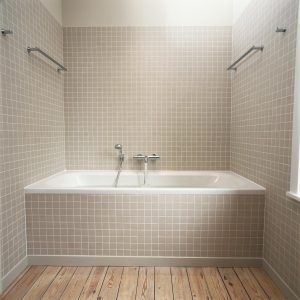 When you first start cleaning your bathroom, you should use warm water and a mild dish detergent. Once you have finished washing away any soap scum, you can rinse off the area. If there are stubborn stains, you can add an additional cleaner. 
To remove water spots, you can apply a paste of baking soda and vinegar. Leave the paste on the stained tile for an hour and then rinse with clean water. After the cleaning solution has been removed, it is advisable to use a microfiber cloth to wipe down the surface. Rinse the area thoroughly and dry it off. 
Another method is to spray a water and vinegar solution on the tile. This solution can be made in a ratio of one part vinegar to four parts water. The two-part solution can be applied to the shower tile and left on for 30 minutes. 
Another method of removing soap scum is to use a fine grit sanding sponge. These sponges can be purchased from most grocery stores. Make sure you select a non-scratching scrubber that will not damage your shower tiles. 
A water and vinegar mixture can also be sprayed on the grout lines of the tile. While the solution may not be completely effective, it will loosen up the dirt on the tile surface. You can then remove the residue by scrubbing with a soft brush. 
If you notice a stain on your ceramic tile, you can clean the area using a commercial tile and grout cleaner. A steam cleaner can also be used to remove the residue. 
If you are looking for a more natural way to clean your ceramic tiles, you can make a mixture of distilled white vinegar and hot water. Mix this mixture in a spray bottle, and then spray the cleaning solution over the tile. Afterward, you can wash the tile with a microfiber cloth. 
There are also several other cleaning methods you can use to keep your tile looking fresh and new. Depending on the amount of traffic and the amount of time you spend in your shower, you may need to clean the area more often than once a month. 
Ceramic tile is a great option for any home, as it is easy to care for and durable. It adds value to your house and can be very attractive. However, it can become a little slippery and a bit tricky to clean. In order to maintain the look of your tile, you should do a deep cleaning periodically. 
If you are looking to add more style to your bathroom, try using ceramic tile. Ceramic tile is a simple, yet effective solution for contemporary homeowners who want a fresh, clean and modern look.