How to Clean Ceramic Tile Floors With Vinegar and Other All-Natural Products
If you have ceramic tile floors in your home, you know they need regular attention to keep them looking their best. This is especially true if you have pets or children who play on them often, as they can accumulate dirt and other debris quickly. 
(Looking for "concrete countertops in the bathroom"? Contact us Today!)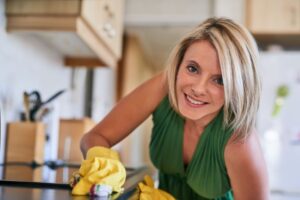 You can clean your tiles effectively and safely with some simple do-it-yourself cleaning products, without harsh chemicals. These include vinegar, liquid dish soap, lemon juice, and other natural cleaners that will leave your floor smelling fresh and clean while still protecting the surface of your tile. 
Vinegar is a great all-purpose cleaner that can be used on many types of surfaces, including tile. However, it should not be used on natural stone and unglazed ceramic, as the acidic ingredients can harm these materials. If you have marble or granite, it's a good idea to use a cleaner specifically for these types of stone, which will be less acidic and won't damage the finish of your tiles. 
Make a vinegar paste to tackle tough stains
If you have some stains that are hard to remove with water alone, try using a paste made with a combination of baking soda and vinegar. Mix equal parts of these ingredients to create a thick paste and apply it to the stained area. Rinse well afterward to get rid of the residue. 
Another all-natural cleaner that works wonders on ceramic tile is lemon juice. You can spray it directly on the tile, or you can soak a cloth in it and wipe down the tiles. 
Baking soda is a super-powerful all-purpose cleaner that also works well on tile, as it can easily loosen dirt and other grime. Simply sprinkle some on the affected areas and scrub it with a sponge or bristle brush, then rinse it off with water. 
Liquid dish soap is another mild detergent that can be used on most tiles, and it cuts through grease like a dream. It's also a milder alternative to commercial cleaners, so it won't leave any harsh fumes or scents behind when you mop your tile. 
If your tiles need deep cleaning, consider an electric floor washer or polisher scrubber. This will help you get the job done efficiently and thoroughly, but it's important to take care not to scratch your tiles with it. 
A broom is an excellent daily maintenance tool, as it helps remove dust and dirt from your tile surfaces. It's also a good way to remove small pieces of trash and debris that might otherwise end up in your tile grout, where they can cause problems down the line. 
You can also keep a bucket of hot water and vinegar on hand for quick mopping. This will help you cut through stuck-on messes as they happen and give your floor a bright, fresh look when it's time to clean again. For the best results, fill the bucket with one or two gallons of hot water. You can then add a little vinegar to the water to dilute it and help keep it from bleaching or wearing down your tiles.