How to Clean Ceramic Shower Tile?
Shower tiles are an essential part of any bathroom, but they can also be tricky to keep clean. With constant use and splashes of water, they can quickly become dirty and unsightly. Luckily, there are ways to keep your ceramic shower tile looking shiny and new! 
(Looking for "reglazing tile"? Contact us today!)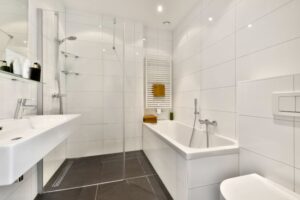 First, make sure to keep the grout clean. This is crucial as it will help prevent the growth of mold and mildew. Cleaning the grout regularly will also reduce bacteria and other odor-causing microorganisms, making your bathroom healthier for you and your family. 
Next, choose a mild detergent or soap. This will be easier to use and won't damage the surface. Avoid soaps that contain bleach, as they can discolor or dull your tile's appearance. 
Another option is to use a non-toxic vinegar solution. Vinegar is a great disinfectant that also eliminates odors. It can be applied in a spray bottle or on a cloth for a more hands-on cleaning job. 
However, don't just use vinegar to clean your bathroom; it can damage natural stone tiles, like travertine. This is because vinegar can eat away at the sealants that protect natural stones. 
If you have a natural stone tile floor, it is best to stick with cleaners that are made specifically for that type of tile. Otherwise, you may end up with an etching or discoloration. 
You can also try using a baking soda paste on your tile surfaces to get rid of stains and grime. The recipe is 3 parts baking soda and 1 part water in a paste form. Spread the paste on your tiles and scrub it off with a soft sponge or a toothbrush. 
When you're finished, rinse off the surface with lukewarm or warm water. This will remove any leftover vinegar and the scum it produced. 
It's a good idea to do this 4 to 5 times a week, or even more frequently, to ensure that your ceramic shower tiles stay clean and fresh-looking. You can also dry them with a soft cloth, and wipe down the walls after every shower to limit the buildup of dirt, mold, and mildew. 
Then, once a month or so, you can use a commercial tile cleaner to give your tiles a thorough clean. Check the label to ensure that the cleaner is safe for your particular tiles and grout, or try an alternative option that is formulated especially for cleaning ceramic tile. 
If your tiles are a bit stubborn, you can try using a bleach solution in hot water instead. This will not only remove stubborn stains, but it will also remove any epoxy-based grout haze that has formed. Bleach is not recommended regularly, but if nothing else works, it's worth trying. 
After cleaning your tile surfaces, give them a shine by polishing them with club soda. This is an inexpensive and easy way to add a sparkle to your tiles. 
It is important to make sure your ceramic shower tiles are cleaned properly and regularly, as they can be hard to keep clean. This is because they are porous, and water tends to permeate them, allowing a wide range of dirt, grime, and other contaminants to accumulate over time.