How Much to Remodel a Bathroom?
A bathroom remodel can be a costly undertaking. There are many components to consider, from lighting and ventilation to the layout, design, and materials. It's a good idea to have a solid plan before embarking on the project. You can do some work yourself, but you may find that a professional is a better option. If you do opt for professional help, be sure to get a quote that's accurate. 
Looking for "bathtub refinishing companies near me"? Contact us today!)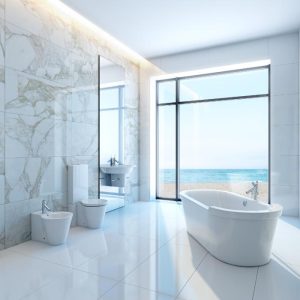 The cost of a bathroom remodel will vary widely depending on the size of the space and the level of customization you're looking to achieve. For a basic bathroom, expect to spend between $15,000 and $20,000. In addition, there are other factors to keep in mind. Remodeling a full-bore bathroom will involve relocating plumbing, wiring, and fixtures. 
A bathroom remodel of this magnitude can take up to two months. This includes the time required to select and order materials, obtain permits, and install them. During this time, you'll have to be able to use an alternate bathroom. 
One of the most cost effective ways to remodel your bathroom is to spread the cost over several phases. Spreading the cost over several months can save you from having to pay for the full renovation all at once. Another benefit to spreading costs over multiple stages is the opportunity to choose products that offer the best value. 
The cost of a bathroom remodel can also be determined by the quality of the material used. Materials like tile or fiberglass have an average price range of $611 to $811. On the other hand, engineered wood is a more affordable alternative, averaging $4 to $7 per square foot. Engineered wood is easy to install and doesn't need special tools. 
If you're re-doing your bathroom, you'll want to make sure to consider the other perks of remodeling, such as increasing the value of your home. While the average bathroom remodel will likely involve a few changes, you can add a bedroom or additional bath to increase the resale value of your home. 
The newest and most technologically advanced showerheads, faucets, and fixtures are available. However, if you want to save money, you can upgrade your existing fixture instead. These items can be purchased at home improvement stores and online. Be sure to look for fixtures that fit the same footprint as your old ones. Make sure the hoses and drains are properly sealed to avoid unnecessary repairs down the road. 
Bathroom remodels are often complicated, and the cost can vary considerably depending on the size of the space and the type of material selected. To avoid costly mistakes, it's important to have a solid plan before starting the project. As with any home renovation, you should be sure to find a reputable contractor with the experience and expertise to complete the job. 
The bathroom is a great place to experiment with colors, lighting, and finishes. Choose high-quality products that last a long time. Consider upgrading your showerhead to an in-bath unit or a handheld shower. 
</p>