How Much Do New Bathroom Quartz Countertops Cost?
If you are looking to replace your old bathroom countertops, you may want to consider quartz. Quartz is a solid surface that resembles stone, marble, or concrete. It is durable and smooth. Quartz countertops have a polished finish that allows smudges to disappear. The polished surface is highly reflective and can help disguise everyday wear and tear. However, quartz can be a costly material to install. 
Looking for "tub reglazing"? Contact us today!)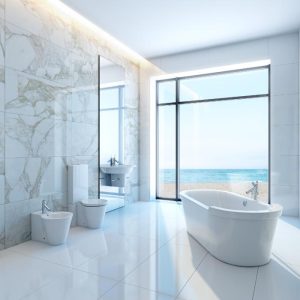 Fortunately, the cost of quartz countertops can be relatively affordable. Some quartz countertop companies will include the installation in their price. Others will charge extra. Depending on the company, the installed cost of a quartz countertop can range from $30 to $100 per square foot. 
Installation of a quartz countertop involves many steps. First, the contractor will need to measure the kitchen and make a template of the work area. This will allow the contractor to plan the layout of the countertops, cutouts, and sinks. Once the template is complete, the fabricator will begin the fabrication process. This can take anywhere from two weeks to a month. In addition, the contractor will need to provide space for plumbing and any cutouts. 
Before the quartz countertop is installed, it will need to be leveled. Leveling the cabinets will ensure that the weight of the countertops does not cause the countertops to break. Professional installers use shims to ensure that the cabinets are leveled. 
Quartz countertop prices can vary greatly by brand, quality, and location. Most manufacturers price their materials separately. For example, a Caesarstone countertop is usually $30 to $60 a square foot, while Silestone is $50 to $75 a square foot. 
When you decide to have quartz countertops installed, you can choose from many different types of slabs. These can be a variety of sizes, shapes, and colors. You will also have to consider edge treatments. Many quartz manufacturers do not offer free edge options, so you will need to shop around for the best deal. 
A standard polished finish is included in most quartz countertop prices. But some manufacturers will charge more for more intricate edge treatments. An ogee edge style costs about $60 a square foot and a straight edge is about $10 to $30 a square foot. Another popular edge treatment is a bevel cut, which is a 45-degree angle. 
If you're interested in quartz countertops for your bathroom, you can either buy a pre-made slab and have it installed, or you can find one with the sink bowl attached. Both can be cost-effective ways to have new bathroom countertops. 
Regardless of the countertop material you choose, you'll need a professional to install the surface. Although quartz can be installed yourself, it is much more cost-effective to have a professional do the job. During a slow time for your contractor, you may be able to save money by having him or her install the countertops. During a busy time, however, you may have to pay more for the installation.