How Much Does It Cost To Replace A Bathtub?
There are many options when it comes to replacing your bathtub. You can decide to do it yourself or hire a professional. There are many benefits to having a new tub, including the assurance that it will be leak-free and clean for many years to come. 
(Looking for ceramic tile floor refinishing? Contact us today!)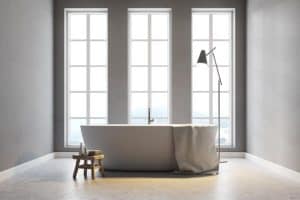 Installing a walk-in tub
While installing a walk-in tub may not be as cost-effective as replacing a traditional bathtub, it can significantly reduce the risk of falls. As many as 33 percent of older adults fall every year and 80 percent of these accidents occur in bathtubs and bathrooms. 
In addition to the cost of the walk-in tub itself, installing the tub may also require moving certain plumbing features in the home. These may include the water supply and drain. You'll also need to get wider pipes to accommodate the larger tub. For example, some walk-in tubs can hold up to 50 gallons of water, which means that you'll need to install wider pipes. 
Refinishing a tub
Refinishing a tub is a great way to update the appearance of your bathroom without having to spend thousands of dollars on a new bathtub. First, you will need to clean the tub to remove soap film and mineral deposits. It will also be necessary to clean any oil residue or cracks. Once the tub has been cleaned, a new coating will be applied to give it a brand new look. You can choose from a variety of colors for your new tub finish. 
The cost of refinishing a bathtub is roughly seventy-five percent to eighty percent less than the cost of replacing a bathtub. However, refinishing a tub may not be a good option if it has extensive damage, in which case it might be better to replace it altogether. In addition, the cost will vary greatly by region and zip code. 
DIY vs. hiring a pro
The choice of whether to DIY or hire a professional to replace a bathtub is an important one. While some tasks can be done on your own, a bathroom remodel is a complex process that requires expert knowledge and expertise. Hiring a professional is the smarter option if you want to save money and avoid complications. 
Before hiring a professional, lay out exactly what you want and expect from the finished product. The contractor may have different visions than you do, and you may not be satisfied with the result. If possible, stick to your original design. It is all too easy for a DIY project to go sideways, and what once seemed like a straightforward fix can end up looking completely different. 
Cost of removing and disposing of an old tub
Bathtub removal costs vary depending on the type of tub that needs to be removed. For a standard acrylic tub, the removal process should cost between $50 and $150. Cast iron tubs, on the other hand, can cost more and require more labor. For this reason, you may want to get a quote before beginning the demolition process. 
The cost of removing and disposing of an old tub depends on its size and complexity. A standard alcove bathtub can be removed for around $200, while a freestanding tub may cost between $300 and $600. Larger cast-iron models, in-deck tubs, and sunken tubs can cost more than $1,200. If you're looking for a more affordable option, consider hiring a professional.