Cost to Polish Marble Countertops?
Getting your marble countertop polished is an easy way to restore its shine and luster. It can be done by yourself, and you can save up to 50 percent of the cost of hiring a contractor. To start, you'll need a few supplies. You can buy these at your local home improvement store. For extra supplies, you can spend anywhere from $100 to $200. 
(Searching for ceramic tile resurfacing? Contact us today!)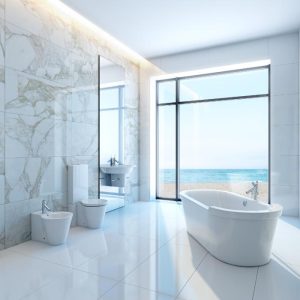 The first step to polishing a marble countertop is to thoroughly clean it. Use a pH-neutral cleaning solution to remove any dirt, debris, or stain. Then, use a soft-bristled brush to apply a sealer. It is important to follow the directions for the product to prevent the sealer from peeling off the surface. If you're unsure about how to clean the surface, you can find a video or DVD to guide you. 
When you're ready to polish, you'll need a polishing compound. You can purchase one that is specially designed for this type of stone. It should be applied in small amounts and then removed with a damp cloth. You'll also need a felt wheel to attach to your polisher. You should use a low to medium speed. 
To remove etch marks, you'll need a special etch remover. You can also use a paste of water and marble polishing powder. This should be applied to the countertop in small quantities. The etching will fade over time. If you're not sure about how to remove etch marks, you can try a Tenax Rust Poultice Stain Remover. It's a powder that takes a few minutes to work, but it will get rid of stains. 
Once the surface is dry, you can polish the granite. The process is similar to polishing a hardwood floor. You'll want to use a microfiber floor mop to avoid scratching the surface. You'll also want to ensure that you follow the manufacturer's directions for the polishing compound. This will help you get the best results. 
The marble countertop repair kit is another option to fix small chips and scratches. It can cost around $40 at a local hardware store. If you're working on a large kitchen, you might want to consider installing a marble tray to protect the surface from chemicals and damaging dust. 
The average price for refinishing a marble countertop is about $500 to $1,200. This amount covers the labor and supplies, but it does not include removing deep stains and pits. The cost will vary depending on the type of marble you have. For example, Statuario is rare and costs slightly more than Calacatta. It's a gray-veined stone that has gold veins. 
If your marble is porous, you might need to repeat this process. For porous stones, you'll need a more durable sealer. It's also recommended to apply a permanent sealer to the surface, as it creates a non-porous surface. A permanent sealer is a resin bonding product that fills in the gaps between the granite and the sealant. It will take several coats to achieve this effect.