How Long to Wait After Reglazing a Bathtub?
If you have decided to reglaze your bathtub, you may be wondering how long you need to wait before using it. There are a couple of different factors to consider, including the drying time and durability of the finished product. The full cure of the reglazed surface usually takes six days. For the first six days, you should avoid placing wet items on the reglazed surface. 
(Looking for bathtub refinishing San Diego? Visit us today!)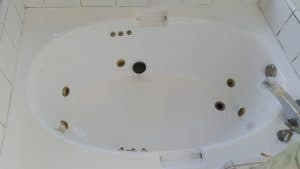 The durability of resurfaced bathtubs
The durability of resurfaced bathtubs is dependent on the materials used to prepare them. The old coating must be removed and the surface thoroughly sanded. There may be small imperfections or cracks that must be addressed thoroughly to prevent delamination. Imperfections that are not removed will result in post-treatment damage. 
Generally, a resurfaced bathtub will have a longer life span than one that hasn't been refinished. The quality of the refinishing agent used, as well as the professional work performed by the bathtub refinisher, determine how durable the new surface will be. A professional company will also offer warranties for their work. These warranties usually range from five to ten years. Furthermore, the permanent coating used by a professional refinishing company will be more durable, with a lifespan of 20 years. 
In addition to providing a durable finish, bathtub resurfacing can save you money on maintenance. Resurfacing your bathtub can prevent staining and damage. The new sealant will make stains and mineral deposits harder to adhere to. 
Drying time of resurfaced bathtubs
Drying time for resurfaced bathtubs can be as long as 24 hours, and is determined by the type of refinishing material used and the humidity levels. A professional contractor can tell you exactly how long it will take for the coating to dry. While a resurfaced bathtub is still susceptible to water damage, there are some things you can do to prevent damage to the surface. 
The first thing you need to do after reglazing a tub is to make sure the surface has dried. Most reglazing products require 24 to 48 hours to dry completely, but some products take up to three days. To make sure the surface is dry and safe, follow the manufacturer's instructions. Also, make sure the room is well-ventilated. 
Resurfacing a bathtub is a great way to restore its original beauty. While it is not an ideal solution for cracks, it does not cost as much as replacing the bathtub. The process also takes less time and is less messy. Plus, it will last for years. 
Cleaning a resurfaced bathtub
After reglazing a bathtub, it is important to clean it carefully. You should avoid using bath mats with suction cups, which can scratch the finish. You also should avoid using abrasives or other harsh chemicals on the surface. To protect the finish, you should use a urethane polish. Also, try to avoid standing on the surface while bathing or showering. 
To keep the tub surface clean, you should choose a cleaner with non-abrasive properties, such as Scrubbing Bubbles, Formula 409, or Lysol Tub and Tile Cleaner. If the stain is particularly tough, you can use a nylon brush with soft bristles. When using a cleaner, use the appropriate amount, and clean the surface of the tub with hot water. 
You can also use liquid soap to clean the bathtub unless you're concerned that it might harm the finish. Liquid soap is safe to use on resurfaced bathtubs because it rinses off easily and leaves no residue behind. The liquid soap will also help prevent water stains and erosion. You should also check faucets for leaks since water can easily gather in the drain and cause rust to form. Additionally, you should check caulked crevices for excess moisture that may cause erosion and mold growth.