How Long Do Bathtub Refinishing Fumes Last?
When refinishing a bathtub, the finish needs to be stripped off. This requires chemicals. One of the most common chemicals used during this process is methylene chloride, a chlorinated solvent used for degreasing and paint removal. This chemical is heavier than air and has a sweet smell. Its exposure can cause a host of health problems. In fact, according to the CDC, 14 deaths have been linked to exposure to this chemical. 
(Searching in Google "tub and tile refinisher"? Contact us today!)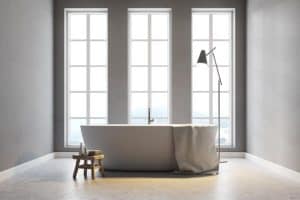 Exposure to methylene chloride
OSHA recently issued an alert concerning exposure to methylene chloride, a highly toxic chemical. The CDC says the chemical is considered a serious occupational hazard. Exposure to methylene chloride fumes can be fatal. The chemical is especially harmful to furniture and bathtub refinishers. OSHA found that refinishing workers may not be wearing the proper respiratory protection. 
The exact health effects of methylene chloride exposure vary by individual. It can cause headaches, dizziness, nausea, and fatigue. At high concentrations, the chemical can affect the central nervous system, reducing blood flow. Workers may experience respiratory distress and even lose consciousness. Exposure to methylene chloride is also hazardous for those with heart conditions. As a result, workers must use air monitoring equipment. 
Exposure to isocyanates
Bathtub refinishing workers have the potential to develop new-onset asthma from exposure to isocyanates. To minimize their exposure, employers should follow source control guidelines. This includes limiting the exposure to isocyanates for employees who handle the products and for workers who are exposed indirectly. These workers may include maintenance technicians and forklift drivers who enter areas where isocyanate-containing products are used. As a result, employers should factor in indirect isocyanate exposure to their job hazard analysis. 
Exposure to isocyanates is extremely dangerous because it can react with the skin, mucous membranes, and respiratory system. They can cause contact dermatitis, hives, and swelling of the extremities. This can lead to serious medical complications. 
Using organic vapor cartridges to remove refinishing fumes
When working with bathroom refinishing chemicals, it's important to have proper ventilation. Unfortunately, many bathrooms don't have windows. That's why you need to invest in a good ventilation system. Without proper ventilation, you run the risk of breathing in dangerous fumes that can damage your organs. The fumes contain VOCs, which irritate your nose, throat, and eyes. It can also be very expensive to have a ventilation system installed in a bathroom. 
Using organic vapor cartridges can help reduce the number of fumes from bathtub refinishing. This is an important precaution because refinishing tubs contain toxic chemicals. Although you can use dust masks to protect yourself against the fumes, they will not provide the same protection as a cartridge respirator. If you're not comfortable working around tub refinishing fumes, consider hiring a professional. 
Health risks of inhaling refinishing fumes
The fumes that result from bathtub refinishing may be harmful to your health. These fumes contain chemicals called isocyanates, which are toxic to the skin, mucous membranes, eyes, and respiratory tract. Inhaling them can lead to contact dermatitis, a type of rash or hives, as well as swelling of the extremities. 
Methylene chloride is widely used for furniture paint stripping and is also used in aircraft maintenance. The chemical is probably carcinogenic for humans and has been linked to at least 13 fatalities. This toxic compound causes headaches, nausea, and dizziness, and can impair a person's ability to concentrate. It can also cause fatigue and eye irritation.