How Long Does Bathtub Resurfacing Last?
How long does bathtub resurfacing last? Generally, it lasts 10 to 15 years. It costs around $300 to $600 and is environmentally friendly. The process involves the removal of old, damaged finish and coating and application of several layers of new enamel. This process makes the tub more chip-resistant, but the coating will still eventually wear away. It's important to wait 24 hours before using the tub after resurfacing to prevent the new coating from chipping and peeling. There are also some maintenance tips that you should follow afterward. 
(Searching in Google "tile refinishing companies"? Contact us today!)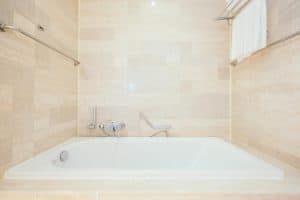 10 to 15 years
Resurfacing a bathtub can be an effective alternative to a costly replacement. It restores the bathtub surface to its original look and feel, and can save you hundreds of dollars and several days of demolition time. It also leaves your bathroom cleaner and drier than before. And, because the resurfacing process takes only a few hours, you don't have to worry about the mess that renovations create. 
The cost of bathtub resurfacing depends on the type of material that the original tub is made of. If you choose to resurface a cast-iron tub, you should expect the job to cost from $500 to $1,000. It will be more expensive if you opt to use a fiberglass tub, which is more difficult to resurface. 
Costs between $300 and $600
The cost of bathtub resurfacing is highly dependent on the type of tub and the material used. The process can be expensive and a novice should avoid it. In addition, the chemicals used to remove the old finish and to refinish the bathtub can be dangerous to your health. You should also consult with a professional before attempting this DIY project. 
Depending on the type of tub you have, bathtub resurfacing may cost anywhere from $300 to $600. You can also opt to have a professional do the job, which is more expensive but is worth it if you are short on time or want a completely clean project. 
Time-intensive
Replacing your bathtub can be costly and time-intensive. It also creates a large mess in your bathroom, and may leave you without a bath for weeks or months. Instead, you can opt for a less invasive method called bathtub resurfacing, which only takes a few hours to complete. Moreover, bathtub resurfacing is more affordable than bathtub replacement. This option is an excellent option for homeowners who do not want to spend a lot of money on remodeling their bathroom. 
The first step in bathtub resurfacing is to prepare the bathtub surface for the resurfacing process. This involves cleaning away any silicone materials, oils, and soap scum. Cleaning is important to ensure that the resurfacing materials adhere to the bathtub surface. You should pay particular attention to the area around the drain. The area is especially prone to failure and should be thoroughly cleaned. 
Environmentally friendly
Environmentally friendly bathtub resurfacing is a popular way to improve the look of an old bathtub. It is an affordable and environmentally friendly way to update your bathroom without having to replace the tub. In addition, bathtub resurfacing is a great way to save money, too. Many resurfacing companies offer a variety of services that fit any budget. 
Refinishing an old bathtub is a great way to improve its surface and remove stains and other imperfections. It also helps preserve the environment by reducing waste and energy usage. Refinishing bathtubs also helps reduce greenhouse gas emissions, which contribute to global warming. In addition, it reduces the need for virgin materials, minimizing the need to haul and process them.