How Do You Paint Ceramic Tile?
Painting ceramic tile is a great way to change the look of a room. You can paint the tile to match existing decor, and you can even use different colors to create a whole new design. However, you need to know how to properly do this before you get started. 
(Looking for tub resurfacing? Contact us today!)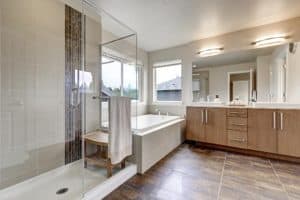 First, you need to prepare the surface. In general, you can use an abrasive cleaner to remove soap scum and mildew. This will allow the primer and paint to stick to the tile. If you do not have access to an abrasive, you can use sugar soap or a detergent solution. Alternatively, you can rent an electric sander and sand down the tiles. 
Next, you need to find the right paint. Latex paint will work well on ceramic tiles. It is also easy to find at your local hardware store. You may want to invest in an undercoat to enhance the durability of the paint. 
Before you start painting, you need to make sure the surface is clean and dry. Moisture can cause bubbles in the paint, causing it to peel away from the surface. To avoid this, you should clean the tile before you start, or use a damp rag to wipe it down. Paint thinner is a good solution for spreading the paint evenly across the tiles. 
The best way to paint ceramic tiles is to buy a top of the line product. Make sure the label is read thoroughly and that you follow the manufacturer's recommendations for drying time and application. Ceramic tile is not the easiest to paint and you do not want to put too much pressure on your roller. 
Using the right tools and materials is crucial. For example, an orbital sander will speed up the sanding process. Similarly, a foam paint roller can be used to apply polyurethane. A small craft brush can also be used to touch up stenciled areas. 
Another useful trick is using a custom stencil to create a decorative effect on your tiles. This is not as difficult as it sounds, and you can make one from card stock or by cutting a design on a piece of plastic. When using a stencil, you want to place the design on the tile in the proper position, and then apply the stencil in a thin layer. 
One of the most important parts of painting ceramic tile is priming it. Primer can be used to create the ideal surface for paint, and it will ensure that the paint adheres to the tile in the most efficient manner. Priming a tile will also help to prevent buildup. Ideally, it should be applied evenly and left to dry. 
The other important part of this step is to sand the tile. Depending on the surface, this can be done with an electric sander or a hand sander. While an orbital sander is easier and faster to use, you can sand a tile with a hand sander if you prefer.