How Do I Refinish My Bathroom Countertops?
If you're looking to refinish your bathroom countertops, there are a few things to keep in mind. First, you'll need to choose a kit that offers water resistance and chip resistance. You'll also need to choose the paint that has been designed specifically for countertop use. It should be able to withstand the high heat and moisture of a kitchen, as well as provide a finish that will be food-safe. 
(Looking for refinishing bathroom sinks and countertops? Contact us today!)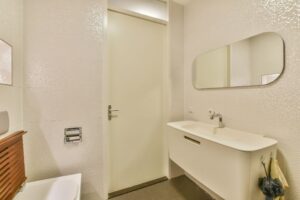 You'll also need to seal your counters to prevent them from getting damaged. This step is essential because if you don't seal your paint, you could have a chipped counter in a month. 
You can get a counter refinishing kit that includes primer, paint, and a durable finish. Some kits include tools, but others require sanding and stripping your counters first. Be sure to read the instructions on your kit before you start. The primer will protect your countertop from stains and scratches, and the topcoat will seal the finished look. 
You can also choose to refinish your bathroom countertop with epoxy. This product is a great way to update your countertops, as it's not as expensive as other refinishing options. Epoxy will not bond with oily or greasy surfaces, so you can choose a finish that works well with the rest of your bathroom. 
You can also choose to refinish laminate countertops. Laminate is a type of synthetic material that can easily be damaged, so you'll need to protect it before you refinish it. A simple solution is to cover it with contact paper or enamel. Paint can be used over laminate countertops, but you may need to clean the area before you can paint. 
You'll also need to re-caulk the edges of your counters. Caulking creates a smooth, uniform finish that will prevent water from seeping in. However, you'll need to sand the surface before caulking, as sanding removes the glossy coating on the surface. 
You'll also need to use a respirator to protect your lungs. Keep a box fan in the window to draw the fumes out. After the paint has been applied, you'll want to let it dry for at least two days. 
The DAICH SpreadStone Mineral Select Countertop Refinishing Kit is an easy-to-use three-step system that transforms your countertops into a semi-gloss stone surface. Available in natural colors or a variety of hues, the spreadstone mineral select is made from real stone. This low-VOC refinishing option is designed to transform your countertops into an affordable, low-maintenance, and beautiful stone look. 
Another alternative is the Rust-Oleum countertop coating system. This product is an economical solution that dries within twelve hours. Plus, it comes in four stone colors, so you'll have a wide range of choices. Besides being affordable, this product offers a smooth, durable finish that dries quickly. 
Painting your bathroom countertops can be a fun and easy project, but you'll need to do some prep work before you can begin. It's a good idea to have painter's tape on hand to make sure that spray paint mist doesn't cover your countertops.