How Deep Are Bathroom Countertops?
Before you install a new bathroom countertop, it's important to know how deep it will be. Most countertops are about 21 inches deep. But there are a number of factors that will determine the depth of your countertops, including cost and material. Here's how to calculate how much your countertop will cost. 
Looking for "bathtub refinishing"? Contact us today!)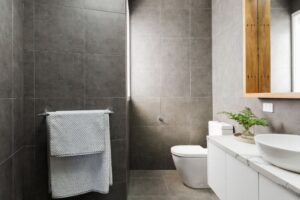 21-inch depth
Bathroom countertops are available in different depths. The standard depth is about twenty to twenty-one inches. This depth is the distance from the cabinet door to the back of the counter. In smaller bathrooms, shallower countertops may be used. If you don't have a lot of space in your bathroom, you can mount a vanity light on the side of the mirror. 
However, if you have limited space in your bathroom, you can get a vanity that is just one to two inches deeper than the existing counter. This will help you save space and make the room look bigger. 
Materials available
When it comes to bathroom countertops, there are many options to choose from. While granite and quartz are the most popular, other materials are also a great choice. If you're considering a new bathroom, try contacting a countertop company that specializes in granite countertops in Columbus, Ohio, or other nearby cities. 
You can also choose ceramic tile, which is a popular material for countertops. While this material tends to be a more informal option, it's also one of the hardest and most durable. Ceramic tile is available in many design options, and it's heat, scratch, and moisture resistant. 
Cost
Depending on the material you choose, bathroom countertops can be expensive. Tile, for example, costs anywhere from three to six cents per square foot. More expensive materials, such as granite and marble, can cost up to $150 per square foot. In addition to material costs, you will also need to factor in labor costs, which can run anywhere from four to seven dollars per square foot. Additionally, you will need to consider the cost of grout, cauler, and sealant. 
The average cost of bathroom countertops varies greatly by location, but you should be aware that the cost will be significantly higher in high-income neighborhoods. Additionally, labor rates in those areas are typically higher than in lower-income areas. Additionally, the type of project and the number of hours will determine the overall cost. 
Cleaning
Cleaning bathroom countertops is an important part of maintaining a clean bathroom. There are many different types of countertop materials, and their care will vary. Keeping your countertops clean is important to your health, as well as the cleanliness of your home. If you are cleaning natural stone countertops, be sure to use a mild soap and water solution. 
Avoid using abrasive tools to clean bathroom countertops. Steel wool and scouring pads can damage the surfaces. Instead, use soft-bristled brushes to remove stubborn grime and spots. After cleaning, wipe dry with a clean cloth. 
Edge styles
Edge styles can dramatically enhance the aesthetics of a bathroom. These styles are especially attractive in modern designs. Bullnose and demi-bullnose edge profiles are popular choices for bathroom countertops. A bullnose edge is round from top to bottom, whereas a demi-bullnose edge has a slightly angled top edge. 
Another edge style to consider is the beveled style. This style mimics the classic architectural style while creating a modern, sleek look. It is often recommended by designers because of its added reflection of light at the edge of the countertop.